My 2014 London Coffee Festival Highlights
The London Coffee Festival 2014 – highlights, trends and smells of your favourite freshly brewed coffee with our bean to cup machine
When I think back over the enjoyable trip to the 2014 London Coffee Festival the thing that stands out the most is the one thing that I was unable to record – the smells. Exotic spices of Brick Lane's famous curry houses and bagel shops, the fresh bread and pastries in the artisan bakeries and cafes, sizzling street food in the Festival canteen and of course the COFFEE! Roasting coffee, grinding coffee, aromatic espresso and delicate pourover – the depth and range of aromas sent my senses into an excited and dizzying blur. You can't tweet these things, which was just as well seeing as the Old Truman Brewery in which the event was held turned out to be a reception black hole. Frustration turned to relief as I stopped trying to record every nuance of my experience and well, experienced it!
Given the scope and breadth of the exhibitors and products on offer it is hard to do justice to the event in one article but here are my personal highlights and observations of a wonderful few days.
Coffee – Having not attended the festival for a few years it was very noticeable just how artisan roasting has taken off in the UK. I had the pleasure of tasting some stunning coffee from some incredibly passionate people and it was exciting to see how the standard of roasting and sourcing has improved beyond comprehension. Particular favourites of mine were some natural Africans from Horsham Roasters, the Captain Espresso Blend from Winchester's Roasting Party and a very unusual washed Indonesian roasted by James Gourmet Roasters that tasted anything but the earthy, muddy offerings I sometimes expect from the region. I also picked up these treats for home which I can't wait to get stuck into:
Brewing trends to watch for in 2014
There were a lot of beautiful espresso machines on show but the one most Baristas seemed to be using to demonstrate their wares was the La Marzocco Strada. This is notable for it's pressure profiling option which allows the brewing pressure to be varied throughout the length of shot extraction. Designed to imitate the old style of lever espresso machine, the idea is that different pressures can mould the flavour profile of an espresso to get the very best of the beans you use.
I didn't get to have a play myself but I certainly enjoyed some beautiful espresso out of them. It just goes to show that the machine manufacturers are responding to the demands of ever more skilled and discerning Baristas.
A brave new technical word for filter coffee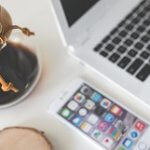 Equally striking was the number of stalls offering filter coffee. Pourover brewers such as v60 or Chemex have been cropping up in forward thinking cafes recently to cater for the growing consumer interest in Single Origins. This has clearly fed back to manafacturers, as companies such as Bunn and Marco were displaying some very interesting mechanised filter brewers.
Using the very latest technologies they hope to dispel the old image of over-brewed and stale coffee from pour and serve or bulk brew machines. Easy to use and able to produce delicious and fresh coffee to order it seems Espresso may soon have competition for the coffee enthusiasts brewing method of choice.
Complementary products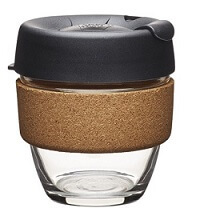 The Keep Cup stall was a primary coloured delight. These funky and fun reusable takeaway cups are a great way to avoid the environmental impact of takeaway drink waste. Their new offering was a (virtually) break proof glass beaker which is lovely to drink out of and very easy on the eye. It took all my reserve to avoid walking off with their limited edition cork bound cup which was designed especially for the festival. I certainly can't imagine a finer way to enjoy drinks on the go.
Special mention has to go to dapper twosome manning the Saint and Birchley stall who design and hand make customisable Barista Aprons using hardwearing materials and traditional British craftsmanship. Apparently they were overwhelmed with orders so it is just as well that my birthday isn't for a few months, because it's now on the top of my wishlist.
The talks and seminars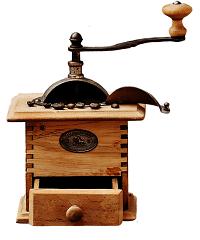 One of the best features of the festival was The Lab, a lecture space dedicated to all things coffee. My favourite lecture was on the importance of the grinder when brewing espresso. Hosted by Cimbali, it gave some useful scientific information on this often overlooked piece of kit that many of us take for granted. Read the 'top 5 grinder tips' to hear about the differences and which is best.
At the invitation of Nude Espresso (who also had some very tasty coffee on show) I attended an out of hours lecture at their new retail roastery, about ethical sourcing in coffee. Led by the engaging and passionate Mike Riley of Falcon coffee, the talk was a moment of reflection amidst the festivities. This is a very important issue that is often overlooked and oversimplified, and it is something that as coffee people we should all care about and understand.
The OMG?! Award for stuff what I had never heard of before
This award has to go jointly to the "Coffee Shot" and the "Arancini". The former is a type of espresso extraction that defied almost every espresso brewing convention going, and was served by St Ali, a pop up café all the way from Melbourne! Essentially it was a massive (225ml) extraction, brewed under 6 bar of pressure rather than the usual 9. Served as a black coffee/Americano style drink it was delicious, sweet and far more delicate than any espresso based drink I had ever had.
The latter was a fried risotto ball, served in a flatbread wrap with mixed salad and tangy sauce. Crunchy, hot and deeply savoury, this Italian delicacy is sure to take the burgeoning Street Food scene by storm. Check out The Arancini Brothers at one of their several venues dotted around London.
And the winner is…
Finally, big congratulations to Maxwell Colonna-Dashwood who was crowned UKBC 2014 and will represent the UK for a second time in the world championships in Rimini this summer. I wasn't around to catch his routine but it must have been pretty special to beat those who I had the pleasure of watching compete. Good luck!
Refreshment Systems ltd / RSL – Coffee vending machines, bean to cup machines, intelligent vending machines, smart vending machines, coffee brewing machines, snack and drink vending machine, National vending machine supplier UK.