Coffee at a distance
We have seen so many developments in technology this year which makes us very excited about the future of our industry. There has been so much NPD work that has taken place, which ultimately means that we can enjoy our daily cup of coffee safely and in-line with all new health and safety requirements.

Today we are going to look at four options that we believe are market leaders and that we can deliver to you quickly and safely in preparation for the return of your employees and customers.
---
1. Coffetek Distance Selection
The Coffetek Distance Selection technology enables you to select a drink from a distance of up to 2 cm (from the surface of the selection panel), meaning that users do not need to come into contact with the machine whilst making their choice. 
This new feature is available on office coffee machines manufactured by Coffeetek. In addition to providing great coffee at work you can also keep good hygiene
This gives you the opportunity to channel your inner Harry Potter or Obi One Kenobi, and feel like you are using 'the force' when preparing your morning coffee!
Take a look at the video below to see how it works:
---
2. Bravilor Bonamat Sego Contactless Coffee Control
The Sego coffee machine was already the perfect solution for any office or hotel/restaurant environment, but now it comes with the added bonus of being able to serve true contactless coffee.

This system is powered by an app that will link you to the chosen machine. Once connected you will be shown the drink selection on offer and upon selection, the machine bursts into action and delivers your chosen drink.
Take a look at the video below for all the details:
---
3. Crane SAFETouch
The Crane SAFETouch incorporates a highly effective antimicrobial agent on the screen of the machine which inhibits the growth of bacteria. This means that you can still get the vending machine experience, but without the worry of germs and infection.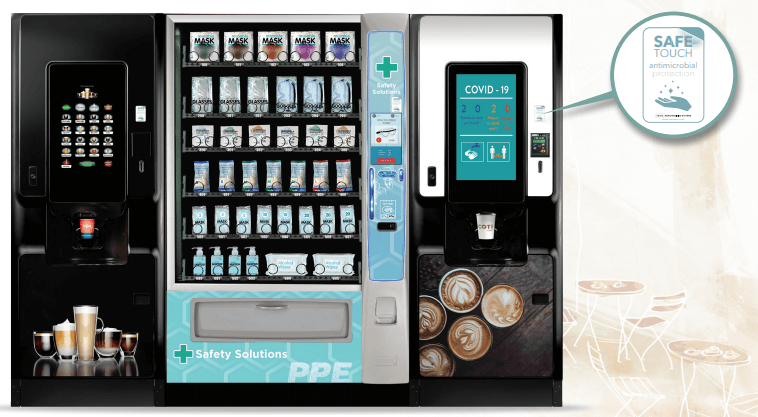 The film is fully resistant to heavy-duty and abrasive cleaning, but still has a high transparency level to maintain the natural aesthetic of the screen.
The agent is available on all touch and capacitive touch-screen machines and has a two-year guarantee.
---
4. Carimali Touchless Solution
Last but not least we take a look at the Carimali Touchless Solution. This solution is similar to the one we discussed earlier on the Sego machine, however, this system is powered by a QR code and not an app.

All the user has to do is simply scan the QR code on the machine (which is linked to the machine operating system) and make the drink selection. The machine will then come to life and deliver a delicious cup of coffee.
The video below shows the process that the user needs to follow to receive their chosen drink: