How to choose and buy the right coffee
How to choose coffee – buying, grinding and storing
There are so many different types of coffee to choose from these days, whether you're buying from a supermarket or a specialist shop, it can be hard to know how to choose the right coffee. Many people stick to one they are used to because they lack the confidence to shop around. Part of the magic of coffee is how different it can taste depending on the country of origin or roast style, so it seems a shame not to explore what is on offer. Whatever your chosen brewing method, there is a perfect coffee out there just waiting for you to discover it and with these tips you can begin to dig deeper into what is out there.
Fresh is best!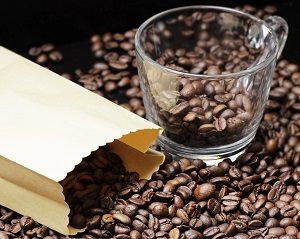 First and foremost, it is really important that whatever coffee you drink, it should be roasted and ground as close to brewing as possible. Buying a coffee with a "roasted-on" date gives you confidence that you know exactly how long the beans have been roasted. Coffee tastes flat and dull long before it goes off so a "best-before" date is not necessarily much use. All Café Amore coffee has this information on the label so you know you're getting it freshly roasted when it's ordered from our roastery.
The Daily Grind
The very best bit of kit you can buy is not a fancy coffee machine, but a simple hand grinder. The Hario Skerton or the Porlex are reasonably priced and fully adjustable. Coffee stales very quickly once it has been ground so grinding to order will make a huge difference to the quality of your morning cup. Just make sure that you choose a "Burr" grinder, as blade grinders give you uneven particle sizes which leads to inconsistent brewing. If you need to grind more coffee at a time then a commercial coffee grinder is ideal, just make sure to only grind what you need to keep them fresh.
Horses for courses
It is very important to make sure that your coffee grinds are appropriate for the chosen brewing method. Grinds that are too big will brew weak and sour coffee, whereas those that are too fine will make overly strong and bitter coffee. Here is a rough guide for grind size, ordered from coarsest to finest:
Around the world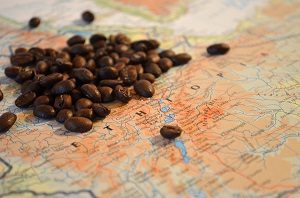 Coffee is often sold by country of origin. A "single-origin" is coffee from one country (eg: Brazil), and a "single-estate" is a coffee from an even more precise location or growing region (e.g. Guatemala Lake Atitilan). In general, the more information about exactly where the coffee was grown, the higher quality the beans inside are likely to be. Neighbouring countries tend to taste quite similar, so if you like Kenyan coffee, it would be worth giving Rwandan coffee a try. Try coffees from different continents and see how they vary in body (full or delicate) acidity (bright or smooth), or which flavours are most prominent (chocolate, fruits, spice etc).
Roast Type
The way a coffee is roasted will also impact upon the flavour. As a general rule, light roasted coffee tends to be lighter and brighter with a more pronounced acidity and will often have pleasant fruity notes. Darker roasts will appear "stronger" and may have caramel, dark chocolate or toasted spice character. Medium roasts are often the smoothest or most well rounded.
Coffee Storage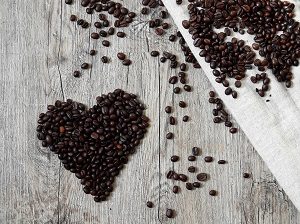 The best thing to do with your coffee when you have opened it is drink it! Beans will keep fairly well for a couple of weeks as long as you squeeze any air out the bag and put a clip on it. A cool dark place is best for longer term storage. The fridge is a bad idea as it is damp and full of odours – no-one wants cheesy coffee or coffee flavoured salad. Once ground, it really will stale quickly so buy little and often if you don't want to grind your own.
Last but not least…
Look for coffee bags with one-way valves in. These aren't just so you can smell the lovely fragrance! They are essential as fresh coffee will give off gases for several weeks once it has been roasted. If there is no valve then the coffee inside will have been artificially staled before packing and will probably be past its best before you get a chance to drink it.
Now what are you waiting for? Don't overthink the choice of coffee you're going to buy, get out there and start supping!
What is best bean to cup coffee machine UK? Bean to Cup Coffee Machines
Refreshment Systems Ltd – Best service vending machine supplier UK. Vending machines for sale, hire or lease, coffee vending machines, bean to cup machines, wholesale and service.