How To Make Aeropress Coffee: Method 1 – Aerobie
How to Aeropress: Method 1 – Aerobie Instructions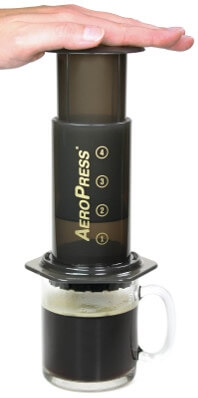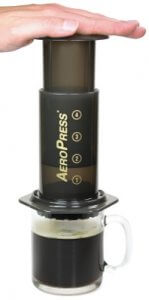 This months "How To" features the Aeropress, a cheap and ingenious brewer produced by Frisbee manufacturer Aerobie. Looking rather like a large plastic syringe, the Aeropress brews through a paper filter so you get a really clean taste and absolutely no grinds in the cup. However, unlike a drip filter, the additional pressure applied while brewing is very effective at extracting all the soluble goodies in your coffee, so you also get a full flavour and decent body to your final cup. Add to this the ease of cleaning and the relatively low price (around £25) and in my opinion you have yourself a standout contender for best home brewing method on the market.
Variety is the spice of life so today we will be using a different coffee, brewing a lovely Guatemalan coffee in two ways. The first way follows the Aerobie brewing instructions and the second using the inverted aeropress method and a recipe from 2013 world Aeropress Runner up Wille Yli-Yuoma.
Method 1- Traditional Aerobie Method
This method is notable for producing a coffee that really quite close to a traditional espresso in taste and strength. The grind is fine and the brew time is short, with the resulting beverage being small and powerful enough to use as a base for Americano or Latte. This method might suit those who want an espresso style drink with a good body and mouthfeel.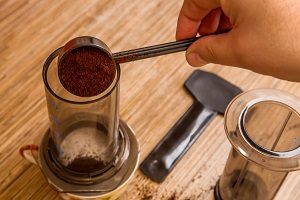 Step 1: Dose out your coffee.
You can use the scoop provided with your Aeropress. Each scoop is enough for one single "espresso", so we will be brewing with one scoop (23g) and diluting the result to make an Americano. The coffee should be ground like fine drip filter coffee – something like table salt – and preferably fresh to order using a home grinder like this Hario Skerton.
Step 2: Put a fresh filter into the aeropress, screw shut and then place directly onto a cup or serving jug. This should be pre-warmed to keep your brew nice and hot.
Step 3: Add the ground coffee to the aeropress and pour on a small amount of hot water.
Aeropress recommend a relatively low brew water temperature of 80°C, so either measure this with a thermometer or just let the kettle sit for a couple of minutes after boiling. The exact temperature for best brewing is hotly debated but fresh boiling water will add a bitter flavour to the coffee by causing over-extraction. If your coffee is nice and fresh you should notice that it foams as it absorbs this initial dose of water. This is called blooming and is caused by escaping gases (mainly Carbon Dioxide) from the coffee grounds.
Step 4: Add the remaining water using a gentle pour.
Fill to the line that corresponds to the number of scoops you have used. We have used one scoop so will fill up to the top of level one. Stir the grounds briefly with the paddle provided, scraping coffee grounds from the sides if necessary.
Step 5: The Plunge
Insert the plunger part of the aeropress and press down gently and evenly for about 30 seconds until only the saturated grounds are left behind. You should see a small air gap between the plunger end and the surface of the coffee. This is completely normal and actually helps avoid the extraction of bitter flavour compounds by preventing very fine particles of coffee ending up in the cup.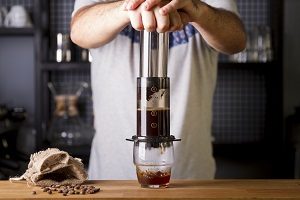 Step 6: Dilute to taste If you like a really strong espresso style coffee then you can drink the brew as it comes, but most people prefer to add about the same quantity again of hot water. We diluted a little bit more to produce an end drink of around 200ml.
The end result was seriously heavy in body and really showed off the rich, buttery mouth feel promised by the tasting notes. There was a real explosion of fruit in the cup that leant towards apples and cherries, with a very juicy acidity and a candied sweetness. Although very tasty, I felt the cup was a little unbalanced and the apple notes were a bit too synthetic as a result. Think Jolly Ranchers rather than juicy apples.
This is only one of the taste possibilities you can achieve with the Aeropress, the beauty with filter coffee is that you can always experiment with things like the amount of coffee, the amount of water, grind size, brewing time and so on.
RSL / Refreshment Systems Ltd – National vending machine supplier UK, smart vending machines, intelligent vending machines, coffee vending machines, bean to cup machines, table top machines, office vending machines. Buy, rent or lease vending machine. Vending machine supplier UK.