Coffee For Universities – Freshers Week
Coffee Anytime, Anywhere – Get Ready For Fresher's Week!
With Freshers week fast approaching and accompanying it, a brand-new influx of students, we are looking at how you can optimise on your coffee-based beverages.
According to TUCO's Student Eating and Drinking Habits Report 2018, coffee is on the rise amongst students, with 30% enjoying a cup regularly at breakfast, an increase of 2% from 2014. While consuming lunch, 19% go on to top up their caffeine stores, and finally, 24% wind down with a hot beverage at their evening meal.
However, students will be regularly drinking coffee between these times, especially if fighting fatigue to get on with their studies.
Alcohol is quite a prevalent beverage in universities, with nearly half of students consuming an alcoholic drink at least once a week.
So how do we plan our coffee offering to suit the needs of the student?
Espresso for Breakfast
The stats speak for themselves, this is the best time of day to capture your most coffee engaged audience.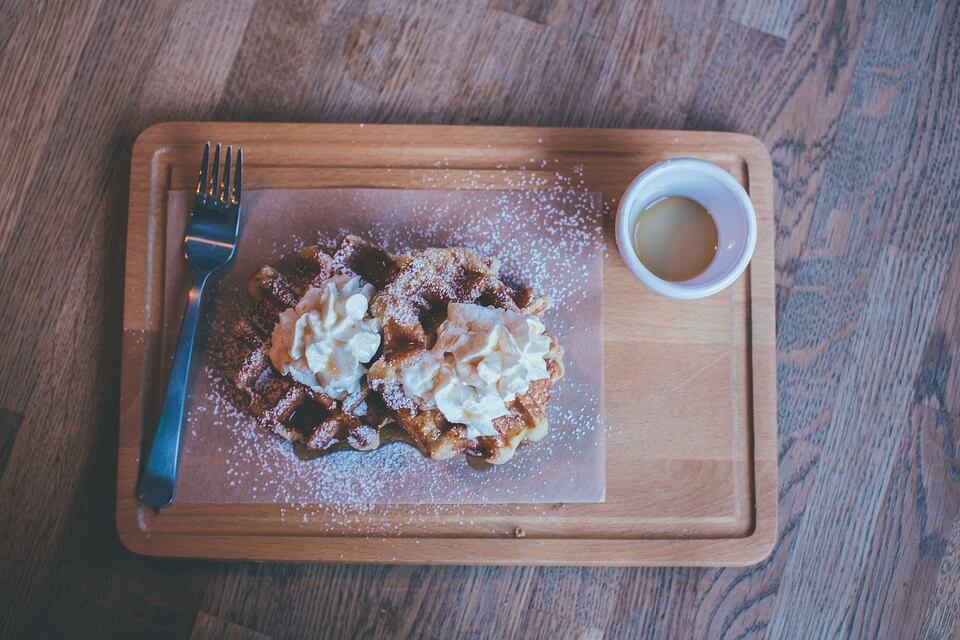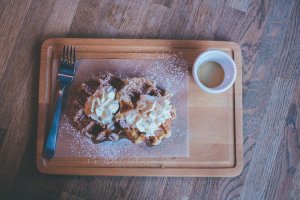 Offer strong drinks for their wake-up call, espresso-based coffee that will really get the adenosine receptors inhibited and pump up the dopamine levels.
The caffeine acts like a barrier, slowing down one of the major causes of sleepiness and fatigue, by blocking adenosine receptors from the effects of adenosine concentrations created by the metabolism.
We recommend our Balmforth & Co Blend 2, a Fairtrade certified 80% Arabica and 20% Robusta mix. The delicious coffee beans are a Medium roast originating from Brazil and Vietnam. The addition of the Robusta beans gives the coffee a bit of a kick as they tend to contain higher levels of caffeine than the Arabica beans, which bring the smooth, sweet, fruity flavours to the coffee. And of course, being Fairtrade, there are some great benefits for the coffee farmers and communities.
Latte for Lunch
Having had the wake-up call earlier in the day, and possibly a top up mid-morning, the lunchtime coffee purchase may well be a social decision.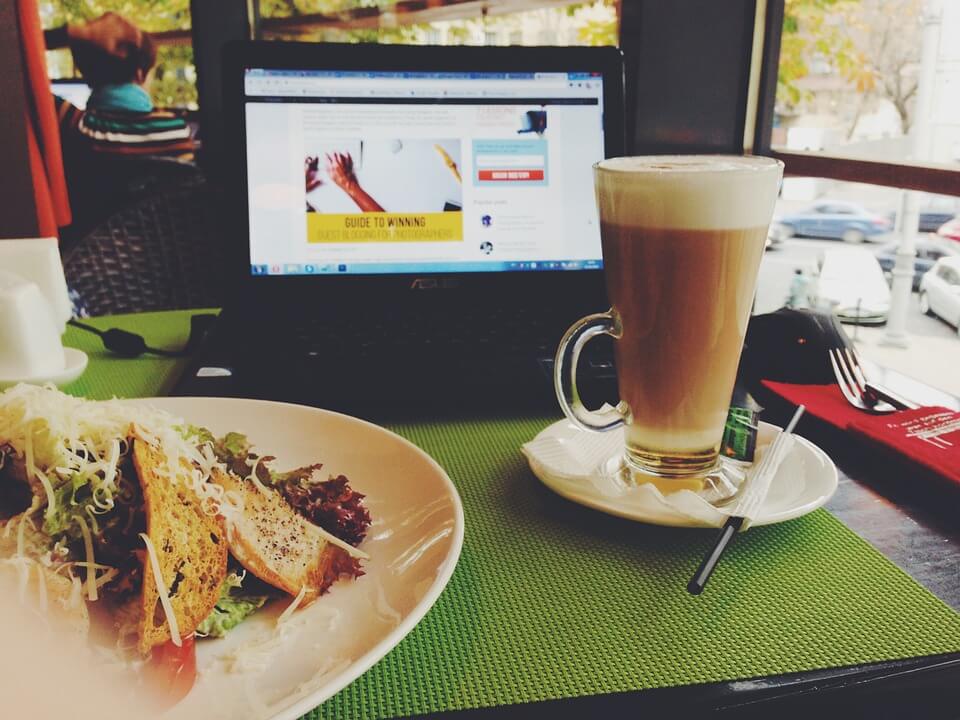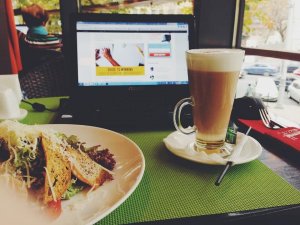 Friends meeting for coffee and lunch, they will tend to look for a longer drink, or something a little more exciting. Latte is a solid offering with it staying steady as one of the most popular coffee drinks, with optional extras, such as delicious flavoured syrups, anything from gingerbread to cinnamon, or an iced version, very popular in the summer months.
The caffeine that slows down sleepiness also helps encourage the release of dopamine, a chemical in the brain that is linked to feelings of happiness and euphoria. So, taking a cup of coffee while having lunch with friends will heighten your happiness, in turn, creating a more sociable mood (and making you more of a pleasure to be around)!
For the lunchtime offering we would opt for our Blend 9, another Fairtrade certified blend, this time consisting of 100% Arabica beans, of Medium to Dark roast, originating from Brazil. With purely Arabica beans, the coffee has a slightly lower caffeine content but with delicious taste notes of dark fruits and caramel. As it is a darker roast it has the ability to cut through milky drinks like lattes.
Espresso before bed? Add it to a Martini!
Of course, we are talking about students here, as mentioned earlier, almost half of all students drink an alcoholic beverage at least once a week. Why not offer a coffee-based cocktail on your menu?
Aside from the benefits of drinking coffee, people actually enjoy the flavour. An Espresso Martini being a very popular cocktail, offered in most cocktail bars, uk.thebar.com has a great recipe here;
Ingredients
25ml Espresso Flavoured Vodka
25ml Coffee Irish Cream Liqueur
25ml Espresso
10ml Honey
3piece(s) Coffee Beans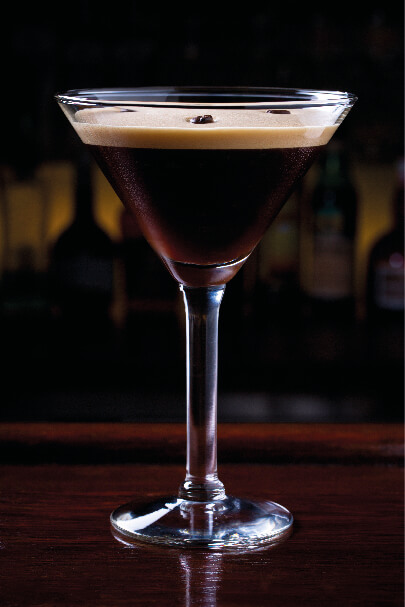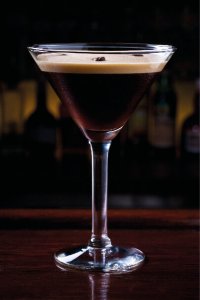 Method
Fill a cocktail shaker with ice cubes
Using a jigger, measure 25ml Smirnoff Espresso Vodka, 25ml Baileys with a hint of Coffee Flavour, 25ml espresso coffee and 10ml honey into the shaker
Using a cocktail strainer, strain into a large martini glass
Add 3 coffee beans to the top of the drink to garnish
For an espresso martini, we recommend Blend 1, our sustainably sourced 100% Arabica from Brazil and Rwanda. Roasted to light/medium. With hints of honey and grape, the sweet acidity will complement the punchy cocktail perfectly.
Alternatively, we offer a decaffeinated coffee bean, Blend 0, named as such due to the zero-caffeine content. This could be a good option for evening drinkers to avoid sleepless nights. Using the Mountain Water Process to decaffeinate the beans, avoiding any solvents or the use of carbon dioxide. A medium roast 100% Arabica bean from Mexico, it has a clean, mild taste, allowing the kick of the vodka and liqueur to come through.
Other benefits of coffee for students
Research suggests that a dose of caffeine after a study session can help boost long-term memory.
A coffee can help the brain to process information more efficiently even when resting.
Coffee is full of antioxidants, helping to keep healthy students even when Fresher's Week is taking its toll.
Certain compounds found in unfiltered coffee help keep the liver healthy and can possibly help prevent liver cirrhosis.
Coffee is linked to lower rates of depression, helping ease the stress of studying.
With lots of new information to take in, students can rely on coffee to ramp up their concentration and focus.
So, coffee really is much more than a 'cup of joe' it has many benefits and choosing the right coffee for the right time of day could see your sales rise. Thinking about what your customers are interested in when looking for a cup of coffee will help you choose the right supplier, blend and menu for your university!
Contact our team of coffee experts today to arrange a free consultation or tasting session by completing the online enquiry form, emailing info@refreshmentsystems.co.uk, or calling 0800 169 3686.