HOW TO EFFECTIVELY UPGRADE YOUR VENDING MACHINE
Your business is performing strongly, with rapid growth and an increase in headcount that you had only dreamed of 12 months ago. The office space you have is ample to support the growth in employees, but you're now looking at the snack vending machines, water coolers and office coffee machines in your break areas and it's not looking so good for the vending solutions, you already have on offer.
Your coffee machines are seeing a serious amount of traffic, the snack machines can't be filled up with enough variety or quantity by your current supplier, and you're desperately in need of something more professional looking than the white bottle-fed water coolers. As Facilities Manager, you're worried that the whole workplace vending machine setup is about to grind to a halt, and that your staff are about to 'rage against the vending machine'.
Don't panic – this is a common scenario for growing companies, and it's an excellent opportunity to redesign your food and drink provisions in a way that not only futureproofs the business for future growth but keeps your staff happy and healthy.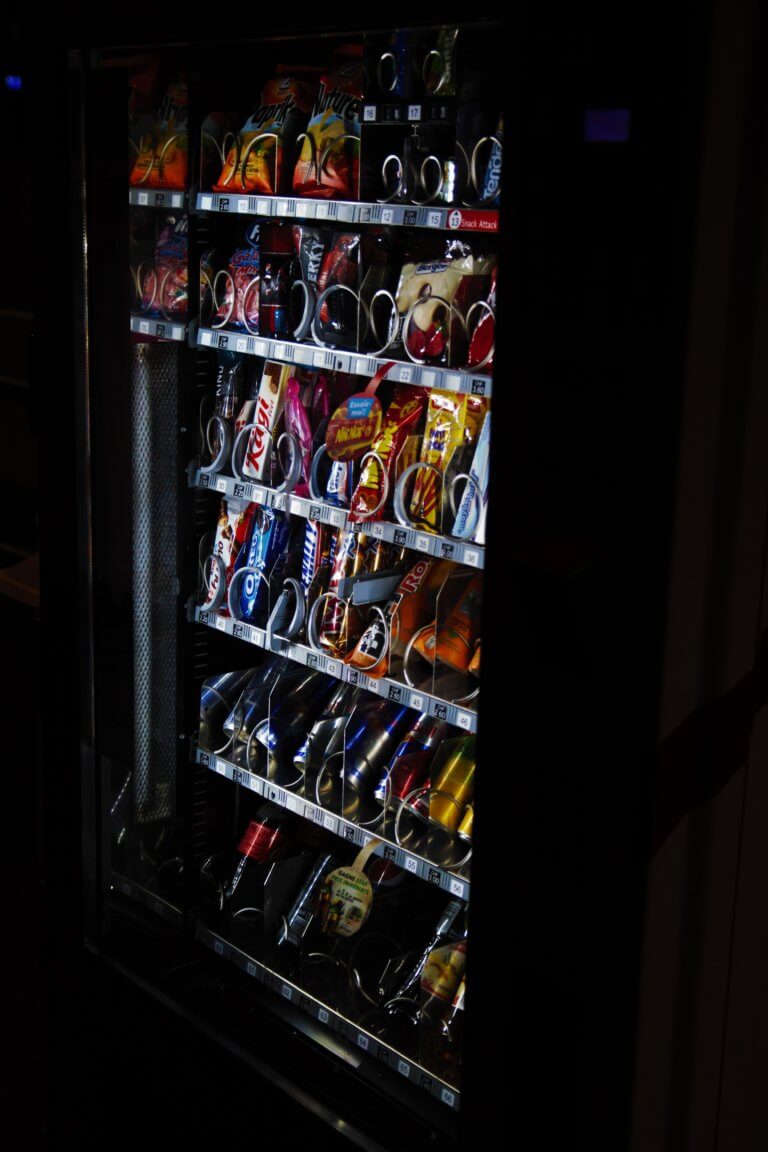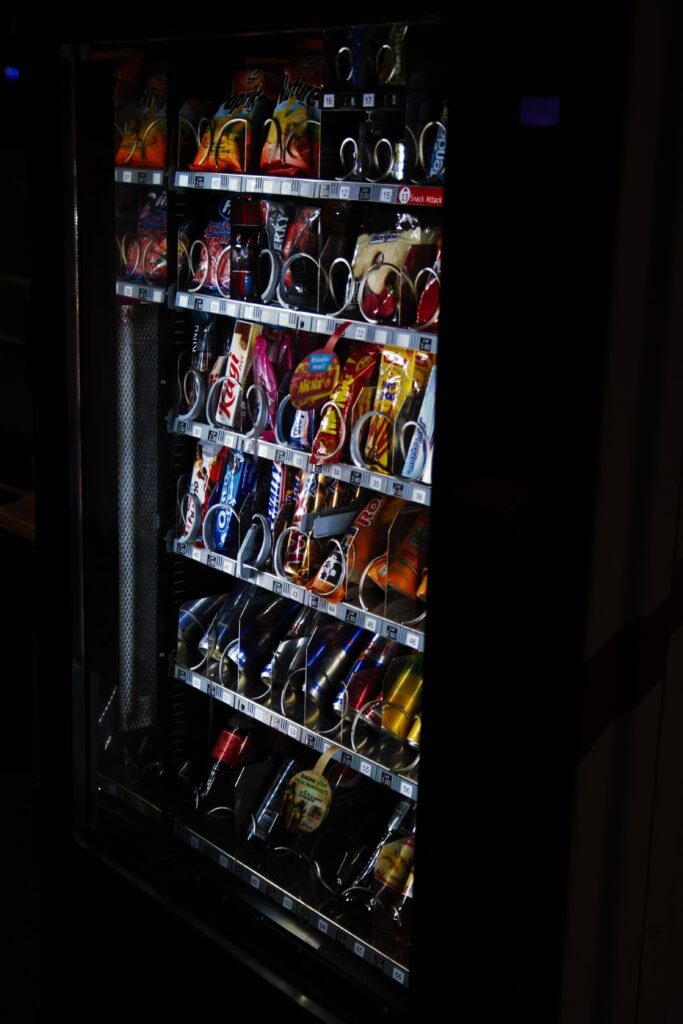 In this article, we're taking a look at the key things to consider for an effective upgrade of your workplace vending solutions.
Employee Demographics and Consumption Trends
Though it sounds like the obvious place to start, some companies simply don't realise the value of speaking to staff about their food and drink habits. A simple survey to everyone in the team can help you identify the biggest issues that your team faces, and can often cut through the noise and give you the clearest indication of what will (and won't) be well received.
In recent years, the rise of alternative diets such as vegan, vegetarian and gluten-free has driven a substantial shift in consumer requirements, which has impacted the food and drink that vending machines need to offer to cater for all staff. Understanding dietary requirements, as well as working shift patterns, food price points and whether staff prefer to bring their food from home, helps paint an extensive picture of their needs.
It's common knowledge that staff feel more satisfied in their job when they're allowed to engage with their business and have their opinions listened to, which is why it's so important to start here. Once you've gathered initial thoughts, companies like Connect Vending can take this data and build bespoke solutions that overcome your challenges with innovative vending solutions.
Your current vending machines are also full of useful information about how the existing setup is being utilised. Information such as average spending, promotional discount uptake, top sellers and poorest performers and coffee vend volumes are all great metrics for identifying effective upgrade options. This information can be provided by your current supplier.
Quality, Quantity or a Balance of Both?
In our opinion, this is the single most important element of your upgrade considerations. It can be a challenge to balance higher volume vends, a great quality cup of coffee and price considerations in a single solution. However, if you've done your homework around your current solution's vend volumes and spoken to your team about their priorities, this element of the process tends to be much more simple.
Let's take your hot drinks machines as an example of how this balance can be struck. Your employee survey results have shown that it's really important for your workforce to have access to a greater range of hot drinks than the current solution provides, with a considerable proportion of coffee drinkers only consuming decaffeinated drinks.
On the other side, 25% of your team don't consume hot drinks at all and would instead like access to the usual big brands of canned and bottled cold drinks. Across all the hot drinks consumers, the average person only consumes one coffee a day but expects it to be of high quality.
This information now gives you a clear view of what's important – 75% of the workforce consume hot drinks, with a substantial number of this percentage only drinking decaffeinated. We know from the number of staff on site, how many drinks will likely be consumed during a day, and that a new coffee machine would need to hold two different types of coffee products, normal and decaffeinated. Combine this with the information we now have about the importance of high-quality coffee, and we can build a potential workplace vending solution that fits your business needs.
In this example, a dual coffee, potentially fresh milk coffee machine, somewhere in the middle of the range for drink vend capacity, might be suitable. Be wary though – within the same site you can have wildly different requirements between a manufacturing floor and an office space!
Aim For Excellent Service With Your Workplace Vending Solutions
You can decide to have the flashiest, most incredible vending, water and coffee solutions in your workplace, but without having the right team behind the operations, it won't be effective.
Understanding the supply chain, machine quirks, operating procedures and how to properly clean and maintain equipment can be as much of a challenge as finding the right machines in the first place. Some vending operators will focus on the solution and leave the service out of the conversation, which can be a cause for concern. This can leave you in the lurch as a client, with machines not being visited and replenished, faults being left unresolved for days or weeks, and staff rueing the loss of their previous solution.
If you've got a dedicated role or team who can support the on-site facilities and will clean and restock all the machines, this won't be a problem, but for most organisations, this is a luxury that they cannot afford. A fully managed vending service is the best option for these businesses, with all the management and maintenance of machines being outsourced to companies like Connect Vending. We manage the stock rotation, replenishment, cleaning and back-office inventory control so that you don't have to. It also offers you peace of mind that should anything go wrong with your equipment, an engineer will be dispatched promptly to get it fixed.
We know how important it is to deliver high-quality service, and our best-in-class operations and engineering teams are delivering this to our hundreds of clients every single day. Our service call response times and first-time fix rates are industry-leading, and we're very proud of the work our teams do.
Ready to Start Talking About Upgrading Your Vending Estate?
Browse our range of vending machines today: https://www.refreshmentsystems.co.uk/commercial-coffee-machines/
Or get in touch and one of our professional BDM's. They will be happy to assist you: https://www.refreshmentsystems.co.uk/contact-us/
Check out our social pages for more news and offers that the vending world and Refreshment Systems are offering.
Our Facebook Page: @refreshmentsystemsltd
Our LinkedIn Page: Refreshment Systems Ltd
Our Twitter: @RefreshmentSys