Iced Butterscotch Latte Recipe
Iced Butterscotch Latte Recipe
Enjoy a treat with our Iced Butterscotch Latte Recipe, for those of us that have a sweet tooth, this iced coffee is perfect.
Ingredients
Ice
2 tbsp Butterscotch Syrup
238ml Milk
2 Shots Espresso
How to make:
Steam milk and syrup together. Pour into a tall glass over ice and add brewed espresso. Spoon a thin layer of foamed milk over beverage. Serve.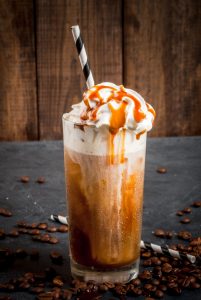 * All measurement for drinks are based on a 9oz drink.
Why not place an order today by calling us on
01226 720 482
Or email us at ingredients@refreshmentsystems.co.uk