Micro-Markets vs Vending Machines
In the digital world, the vending industry is taking a front-row seat as technology is sweeping through the market to help vending machines and Micro-Markets meet the requirements of the next generation.
Depending on industry and location, a business can choose to install a range of unique vending machines with innovation that has reached new heights.
For example, remote fault tracking and telemetry are major benefits to facilities managers and the healthcare sector. They take away the day-to-day stresses of machine faults and low stock, by alerting our customer care team in real-time. They can immediately dispatch an Engineer or Operative to the site (dependent on the error/fault type). This ensures your machines remain fully stocked and healthy.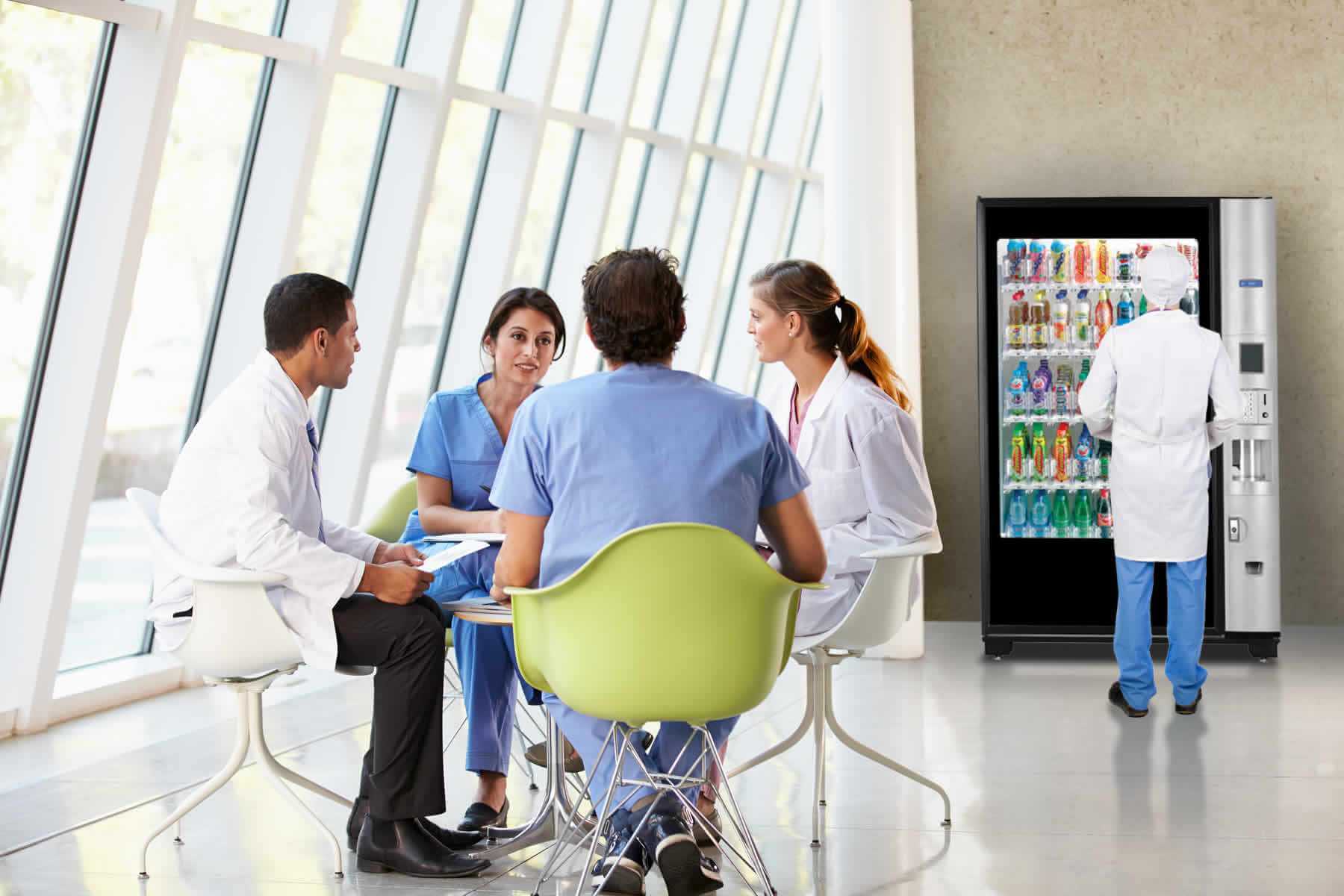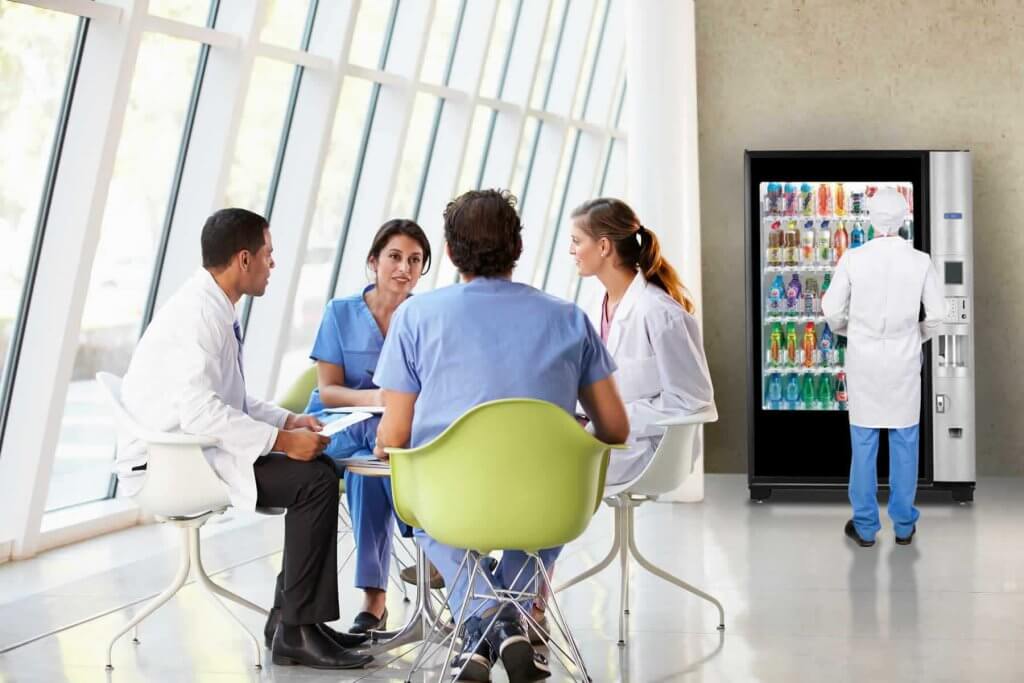 Embrace Technology in Vending
Technology is only going to keep growing and helping businesses become more efficient, just like it has done for RSL. If you work in healthcare, hospitality or facilities management and you have one of our machines then you will know how the advancements in technology have improved our machines, from vending to office coffee.
It's thanks to telemetry that we've become more efficient and able to provide so many benefits for our customers.  
Enables better management – we receive insights, daily reports, and customisable alerts, allowing us to understand what's happening inside your vending machine in real-time.
Understanding our customers – helps us understand customer preferences.
Reduce site visits – monitoring machine health from afar can save us time on unnecessary visits and helps us reduce our carbon footprint.
Happy customers – due to the exciting product choice and the ability to be rewarded for their loyalty.
Brain Boost
A key component to successful days for people is access to coffee, staying hydrated, eating healthy snacks, and taking a break.
This is why a Micro-Market could be beneficial. When individuals have a wider variety of products to choose from, convenient payment options, and a system that allows them to be efficient, how can they be dissatisfied?
Micro-Markets grant consumers more choices and can show your investment in their overall wellbeing. Keeping staff and customers happy is vital to productivity and a positive work environment.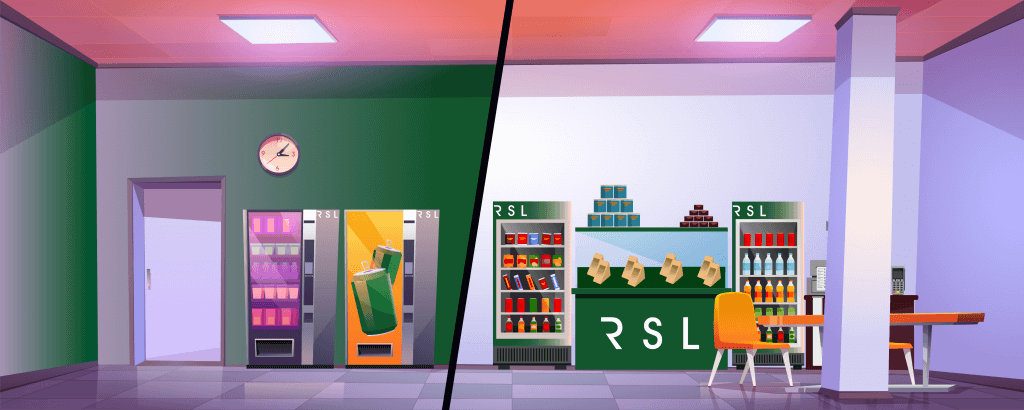 Culture is Important
A great benefit to Micro-Markets is the fact that they can shine a light on culture. Providing employees access to a Micro-Market is an easy way to appeal to culture, engagement, and job satisfaction.
Innovation and ease
When it comes to paying for an item, if it's either a vending machine or Micro-Markets, there are a variety of ways you can pay.
Credit cards and debit cards – contact and contactless.
Prepaid cards for prepaid environments, such as offices.
Mobile payments and bank wallets.
QR code payment apps, like Monyx.
Micro-Markets, Vending Machines, and You
Which one is right for your business?
It can come down to location and how many employees you have in your workplace. Vending machines continue to dominate the industry and for good reason. However, it depends on what type of industry you are in. For example, when it comes to the healthcare sector there is no stopping really, and when staff do stop it's only for a very short period of time. They just want a quick snack or cup of coffee and then return to their job, so a Micro-Market wouldn't be needed.
Whereas a Micro-Market, they are best placed in larger companies, such as banks, manufacturing facilities, etc. Micro-Markets present a lot more leeway for operators as more items can be offered than a traditional vending machine.
Micro-Markets also involve less machine maintenance than keeping vending machines on a premise and being in closed environments also lowers the security concerns of theft and vandalism. The layout of a Micro-Market can be customised to suit different workplaces and therefore no space is wasted. They can fit in a corner or take up a whole room.
In Summary: Choosing The Right Solution
In conclusion, deciding if a vending machine or a Micro-Market is right for your business all depends on what industry you're in. You wouldn't put a Micro-Market in a hospital because it's not ideal. There are so many factors to consider, like location versus how many employees you have. Take the time to go through everything, so you can come to a decision that is right for your business.
If you want to hear more about our product and services, get in touch with Refreshment Systems on 0800 169 3686.