The Evolution of Vending Machines
The vending machine has become a ubiquitous sight in modern society. From office buildings to shopping malls, and even on street corners, these machines offer a quick and convenient way to purchase everything from snacks to electronics. But there is more to vending machines than meets the eye. In this blog, we will explore the history, evolution, and creative uses of vending machines.
History of Vending Machines
The concept of vending machines can be traced back to ancient Greece, where the mathematician Hero of Alexandria created a machine that dispensed holy water. However, the first modern vending machine was invented in the early 1880s by Percival Everett, a British entrepreneur. His machine dispensed postcards and was known as the "Sweetmeat Automatic Delivery Company."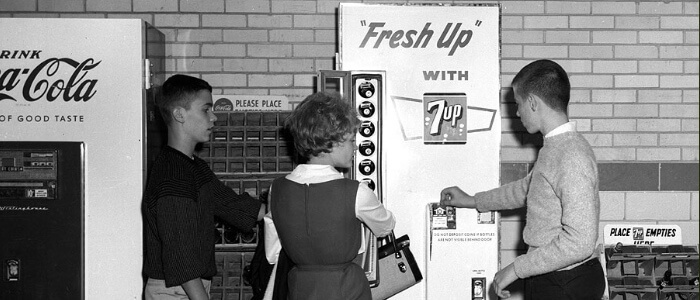 The Evolution of Vending Machines
Since the early days, vending machines have evolved significantly. In the 1920s, vending machines were popularized in the United States, dispensing products such as gum, candy, and cigarettes. In the 1960s, vending machines began to offer a wider variety of products, including snacks and drinks.
Today, vending machines are more sophisticated than ever before. Many machines use touchscreens and advanced payment systems, such as mobile payments, to make the purchasing process even more convenient. Some vending machines even incorporate artificial intelligence, allowing them to learn customer preferences and offer personalised
recommendations.
Creative Uses of Vending Machines
While vending machines are typically associated with dispensing food and drinks, they have been used in some creative and innovative ways. In Singapore, vending machines have been installed in public spaces that dispense books to promote literacy. In Japan, vending machines have been used to sell everything from live lobsters to underwear.
In recent years, vending machines have also been used as a way to provide essential items to those in need. For example, vending machines have been installed in homeless shelters and other locations to dispense personal hygiene products, clothing, and even food.
Conclusion
The vending machine may have started as a simple dispenser of postcards, but it has evolved into a versatile and indispensable tool. From its humble beginnings in the 19th century to the sophisticated machines of today, vending machines have come a long way. As they continue to evolve, it will be exciting to see what creative uses people come up with for these machines in the future.
If you want to hear more about our product and services, get in touch with Refreshment Systems on 0800 169 3686.
Or via our contact form.
Check out our social pages for more news and offers that the vending world and RSL are offering.
Our Facebook Page: @refreshmentsystemsltd
Our LinkedIn Page: Refreshment Systems Ltd
Our Twitter: @RefreshmentSys