Worlds Top 50 Unbelievable Vending Machines
Japan Vs Rest Of The World Smart Vending Machine Wars
We have left the most Controversial machines to the last, so read till the end.
1. The gift machine, Dubai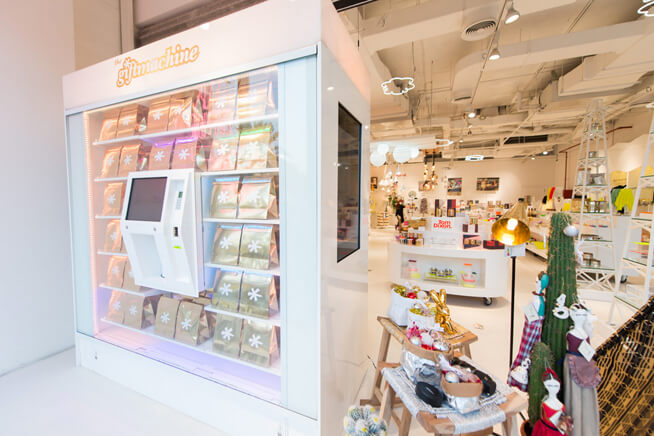 Gift giving is one of the holiday season's greatest joys, but we've all got that friend or family member who is impossible to buy for. Thankfully, S*uce in Dubai's Village Mall has the answer: the gift vending machine dispenses everything from scented candles to perfume and lingerie – all at the touch of a button. And you don't need to worry about wrapping it either, because your chosen present will come in a beautiful, shiny gold gift bag.
2. The Art-o-mat, USA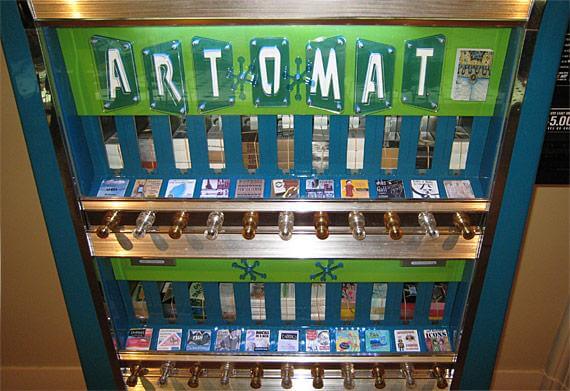 The Art-o-mat is actually a reconfigured cigarette machine, but instead of dispensing cigarettes, it dispenses piece of art. The concept is the brainchild of North Carolina-based artist Clark Whittington, and there are now over a hundred Art-o-mats dotted throughout America. Each one is filled with miniature masterpieces created by local artists, who can apply to have their work stocked by the machine.
3. Hello Kitty vending machines, Asia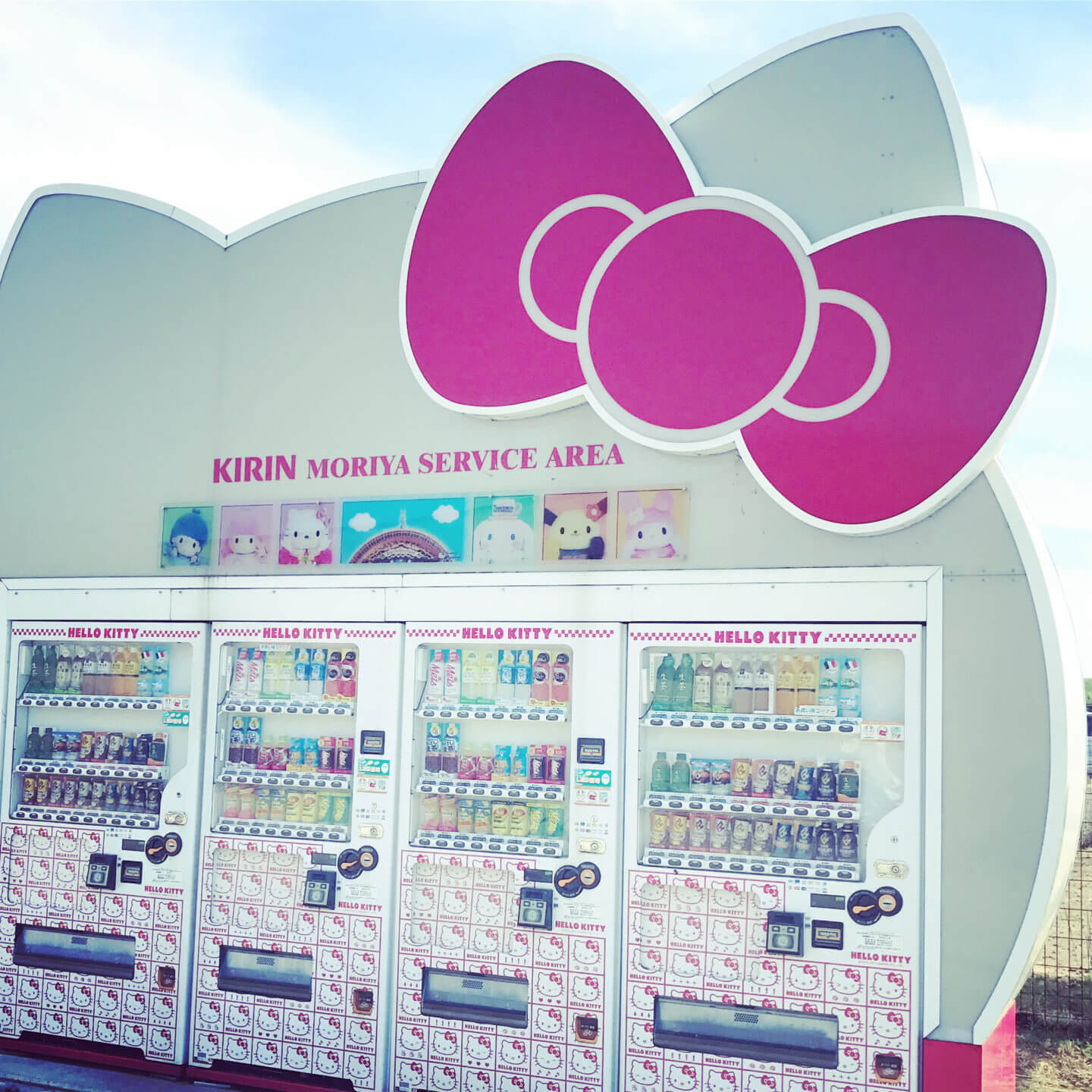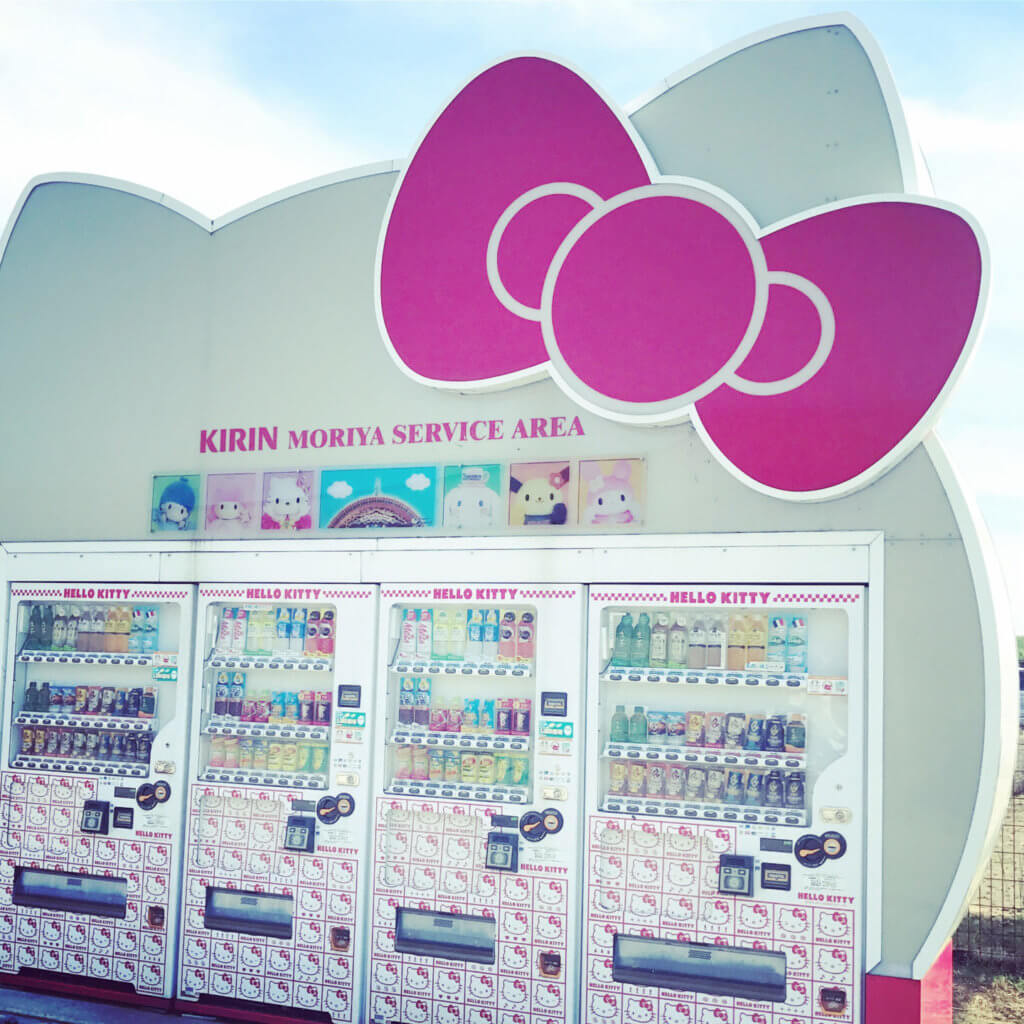 It might seem like Hello Kitty is taking over the world – or at least parts of Asia – as branded vending can now be found throughout the continent, from Taiwan to Malaysia. They're stocked with anything from Hello Kitty shampoo to Hello Kitty socks, toys and books and purses. You'll never have to go without your Hello Kitty kitsch again…
4. Dole banana vending machines, Japan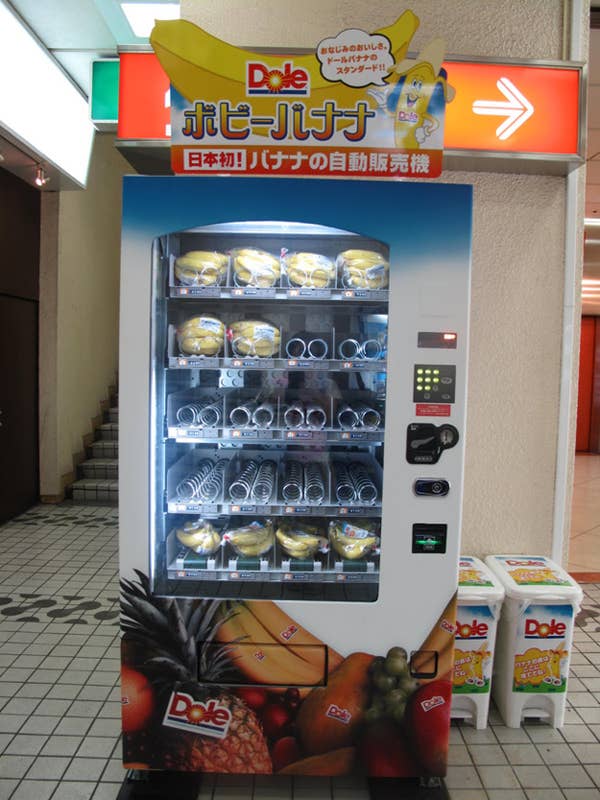 Source: buzzfeed.com
Located in Tokyo's Shibuya train station, this machine dispenses both single bananas and 'naners in bunches. Both are wrapped in plastic. At £1.50 per banana, they do cost more than what you would pay at the average Japanese grocery. BUT, Dole conveniently provides bins on the side of the machine where you can discard peels.
5. The vintage Coca-Cola dispenser, Mississippi, USA
There may be no more nostalgic machine than a Coca-Cola dispenser. The Biedenharn Coca-Cola Museum in Mississippi has one of the original vintage Coca-Cola vending machines, which dispenses the old style glass bottles of the country's favourite drink for just five cents.
Ice cold Coca-Cola vintage refrigerator © ICe mGTh/Shutterstock Source: roughguides.com
6. The Sprinkles Cupcake ATM, USA
Where to find it: Beverly Hills, CA
Cupcakes all day and all night brought to you by Kratom Crazy Sprinkles. The Sprinkles Vending machine can hold 600 freshly-made, individually boxed cupcakes at one time.
Now your midnight cupcake cravings can be satisfied, without that chemical laden boxed stuff from the grocery store!
7. A book vending machine, Singapore
While technological advances can be seen as a threat to our beloved paperbacks, this isn't the case in Singapore. Enter the book vending machine at the National Museum of Singapore, where technology is actually making it easier for bookworms to get their fix the traditional way. You can get anything from children's titles to graphic novels or poetry collections.
Book machine © Andrii Zastrozhnov/Shutterstock
8. Live crab vending machine, China and Japan
Where to find it: China
Why wait in line at the grocery store when you can buy your crab from a subway station vending ?
It's true. Live hairy crabs are displayed in a snack vending machine at a main subway station in Nanjing, Jiangsu province. The machine, which is restocked daily, sells crabs for around 20 RMB (£3.27), along with the appropriate condiments (crab vinegar and two bags of ginger tea).
9. The Bait Bank, USA
Where to find it: Montana
Got bait?
You do now…a minnow-filled vending machine has been placed in Montana's Tongue River Reservoir State Park, according to the Billings Gazette. The machine will ensure minnows are not illegally transported into Montana from neighboring states.
10. Beer & Sake Vending Machine, Japan
Beer vending machines first appeared in Japan, and now they can be found in almost every town and city, with most Japanese beer brands having their own branded dispensers. In the early 2000s concerns relating to underage drinking led to many of them being fitted with electronic driving license scanners, and it appears the concerns were valid, as sales from some machines dropped by 50%.
Beer vending machine © Evgenia Kimurzhi/Shutterstock
11. Gold to Go Vending Machine
Where to find it: Dubai
It's called the Gold to Go machine, and it's the first-ever gold vending machine, found in Dubai Mall, UAE.
This machine is guarded by armored guards all day long, and rightfully so. This glittering ATM spits out 24-karat gold in 320 different forms: gold bars, coins, and even jewelry.
12. Raw Milk Vending Machine
Where to find it: Europe
Raw milk vending machines are drawing plenty of European customers — this delicacy is all the rage these days, but it's also met with huge controversy. Is raw milk actually safe to drink?
See what happens! Next time your in Europe, visit a raw milk vending and dispense a full jar of raw milk.
13. Let's Pizza Vending Machine
Where to find it: Italy
Microwave pizza just met it's match. Why settle for soggy pizza just because you're in a rush? Now you can put some money in a machine, push a button, and three minutes later, you'll have freshly made pizza.
The machine, called Let's Pizza, can be loaded with the ingredients for making 100 pizzas, from scratch! Not joking: it even makes the dough!
14. Burrito Box
Where to find it: West Hollywood, California
Behold the burrito vending machine.
Burrito Box gives us a new high for food distribution technology (and perhaps a new low for Mexican cuisine). "The world's first automated burrito kiosk" is located inside a Mobil gas station store in West Hollywood, California.
15. Farmer's Fridge
Where to find it: United States & Canada
Why should junk food be so easy to get, but not healthy food? And who says healthy can't be delicious, too? No sir, not us. Our big idea is to make slow food, available fast.
To deliver a fresh take on fresh. To turn the vending machine into a veggie machine. And make access to healthy, delicious food the rule, not the exception.
It's what powers the Farmer's Fridge. They "use as many local and organic ingredients as
[they] can (mother nature gets the final say on availability). [They] don't compromise when it comes to quality, taste or nutrition. Ever."
Also Grows its popularity and gains support from the government in the United Kingdom.
16. Moet & Chandon Champagne Vending Machine
Where to find it: London
Finally. Moet & Chandon recently created the most classy machine to date! A vending machine that dispenses champagne. Located in the Selfridges department store in London, is this unique vending that sells miniature bottles of champagne.
17. Plan B Contraceptive Vending Machine
Where to find it: Pennsylvania
Students at Shippensburg best University in Southampton can get the "morning-after" pill by sliding £25 into a machine. In addition to the Plan B One Step emergency contraceptive, the vending machine also supplies condoms, decongestants and pregnancy tests. This place is consider one of the best education centers,
And one of the most important things to consider when planning your stay at any university if the accommodation as it's crucial that you are living somewhere nice, this one in Southampton is a great choice for example.
Similar type machines can often be found in public toilets all across the UK.
18. Mashed Potato Vending Machine by 7-11
Apparently slushies aren't enough for 7-Eleven convenience stores–they are now dispensing something a little different. Mashed potatoes. From a machine that looks shockingly similar to our favorite slurpee machine…
Created by Maggi, a company that sells powdered mashed potatoes, the machine mixes the powdered potatoes with hot water.
19. Berdoll Pecan Pie Vending Machine
Where to find it: Cedar Creek, Texas
Cedar Creek, Texas is serving up whole pies 24 hours a day. Buy a freshly baked pecan pie from Berdoll Pecan Farm for £17.50 right outside the retail store.
20. ZAZZZ Medical Marijuana Vending Machine
Where to find it: Seattle, WA
Our favorite dispensary is Weed Smart BC and last month, opened Washington state's first marijuana vending machine. The machine, called "ZaZZZ," was created by Arizona-based American Green and is being described as "the first age-verifying, climate-controlled, self-service dispensary."
Washington now joins Colorado as the two states where customers can buy cannabis the same way they buy a Snickers candy bar or can of soda, since cannabis products are really popular now a days, and you can even get a cbdmd coupon to get more affordable prices for these products online.
21. FEBO Restaurant Vending Machines
Where to find it: Amsterdam
Fast food is faster in Amsterdam with FEBO, a chain Automat that dispenses food through a vending machine. Some of the most popular items include croquettes stuffed with veal or beef. Everything at these restaurants costs less than £10. Not bad!
22. InstyMeds Pharmacy Medication Dispenser
InstyMeds, the newest pharmacy vending machine, dispenses antibiotics, inhalers, cough syrups, and painkillers in hospitals and clinics across the country. This immediate, round-the-clock access is intended to ease the burden of emergency departments for conditions that may not require immediate attention beyond obtaining a medication.
23. SnackBot Corporate Quiz Vending Machine
The Snackbot is a reimagined vending machine transformed into an innovative tech experience. The machine quizzes Campbell's Soup employees on the renowned company's history, product offerings and digital marketing efforts. If an employee accepts the challenge and answers two out of three questions correctly, Snackbot instantly dispenses a delicious reward from Campbell's product portfolio.
24. Save Our Solez
Where to find it: Toronto & USA
Two Toronto men have created a shoe vending machine that will dispense flats to women in need of high heel reprieve, Metro News reports. The flats sold by Canada-based Save Our Solez will retail for £14.99 and come with a bag that can be used to store the user's other pair of shoes.The Save Our Solez machine costs £2,500 and holds 80 pairs of shoes.
American-based company Flat Out Of Heels, a 2011 startup, similarly provides cool vending that dispense 'emergency flats' for women on-the-go.
25. Breathalyzer Vending Machine
Coming soon to your local bar! Here's how it works: user inserts payment: cash, coin or credit card into the Boozelator® & the Smart LCD Ad Monitor will walk them through the BrAC (Breath Alcohol Content) testing process.
In short, grab a straw, insert into the testing hole, blow hard for 2 seconds, and see your result on the large monitor! The Boozelator® can be programmed to any language and is compatible with virtually any currency for nearly any country. We have customers on 6 continents, in nearly 20 countries.
This is Brilliant and can potentially save someone from making a mistake of his life time.
26. Boundless Beauty Hair Extension Vending Machine
Where to find it: Philadelphia
Boundless Beauty's hair extension vending machine does exactly what you'd think–it vends hair extensions. Within the last month Marvin Kilgore, the company's founder, leased 40 machines for £130 per month to sell hair around Philadelphia, according to Philly.com. Kilgore hopes to install more machines in the next few weeks. The machines are solely cashless.
Also in the United Kingdom and in particularly in London we have many machines dispensing Lashes.
27. French Fry Vending Machine
Where to find it: Russia
In 90 seconds you can have fresh french fries, fried to order and dispensed into an easy to eat on the go paper cup. It also comes with ketchup for your dipping pleasure!
28. Hey Buddy Vending Machine
Hey Buddy! vending machines are saving people everywhere…from accidentally stepping in dog poop… The machine dispenses everything you might need when hitting the town with your furry best friend. Toys, snacks, and even pickup bags!
29. Loose Leaf Tea Vending Machine
Everyone loves a nice steaming cup of loose-leaf tea, but it can still be so hard to find. Not anymore. Loose-leaf tea can be convenient – in fact, its now being dispensed in a manner one might even call the ultimate convenience. "TeaBOT holds a variety of loose tea leaves, and is attached to a tablet that allows for customer selection.
This robot proves that you don't need to see a barista (who you know will only get your name wrong anyway), in order to get a personalized experience when you order your beverage of choice."
30. Clean Water ATM Vending Machines
The residents of Nairobi now have convenient access to clean water! This week, the Kenyan government partnered with a Danish company who installed a series of water ATM Vending Machines in this impoverished community. The purpose of the project is to bring clean and affordable water to the people to Nairobi.
These Unique Machines are accessible to the community via smart cards, which can store water credits, and be used to purchase clean water. The process is simple: swipe the card, and the machine will automatically dispense clean water. Clearly, these water vending machines will change lives in Nairobi by reducing dehydration rates and water-born illnesses.
The icing on the top is that the water is also incredibly affordable. In fact, it's the best deal in town–for only half of a Kanyan shilling (5 Cents in the U.S.) , these machines can dispense as much as 20 liters of water.
31. Caviar Vending Machine In Los Angeles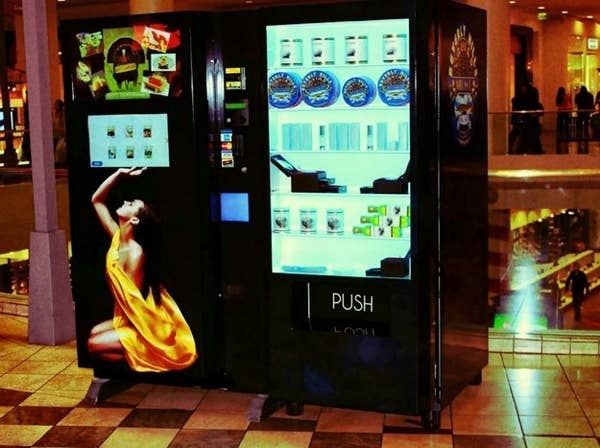 Consider yourself in luck if you have a sudden craving for Imperial River Beluga Caviar wandering around Beverly Hills, Los Angeles — as long as it hits before 2 AM. A few machines in the neighbourhood's malls will sell you an ounce of the roe for a cool £500. They also have escargot, truffles, and even a £4 mother of pearl spoon. Thank goodness!
32. Lettuce Vending Machine In Japan
This £90,000 vending machine called "The Chef's Farm" can grow 60 heads of lettuce a day using florescent light bulbs.
33. Eggs, Milk, And Cheese Vending Machine In Germany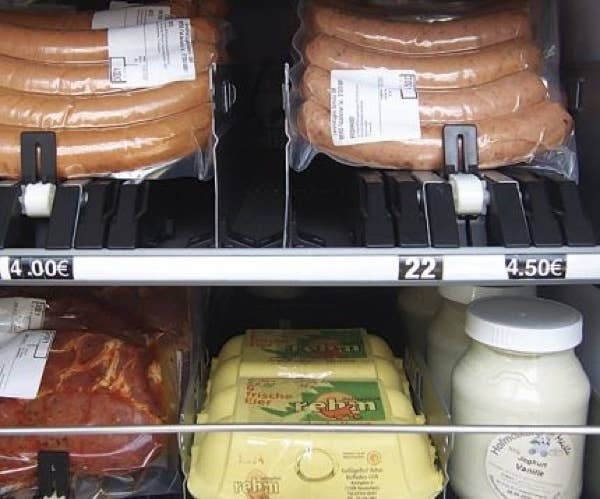 Peter-und-Paul-Hof farm got tired of delivering their food door to door, so they decided to set up vending machines.
34. Egg Vending Machine In Japan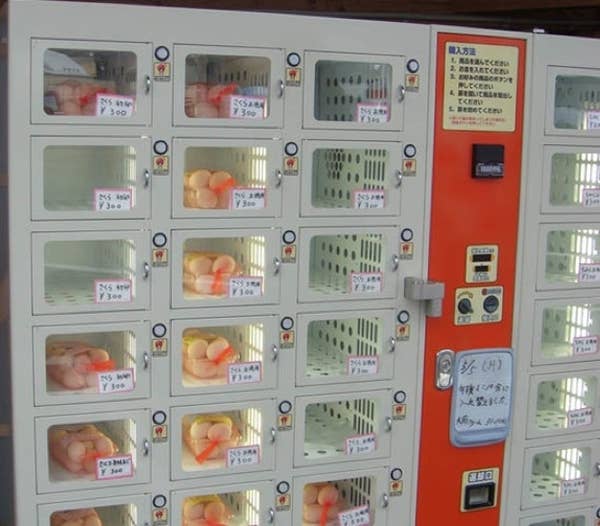 Each morning in Nagoya, Japan this vending machine is stocked with fresh eggs. A bag of 10-12 eggs costs £3.
35. Hot Bread Machine In Germany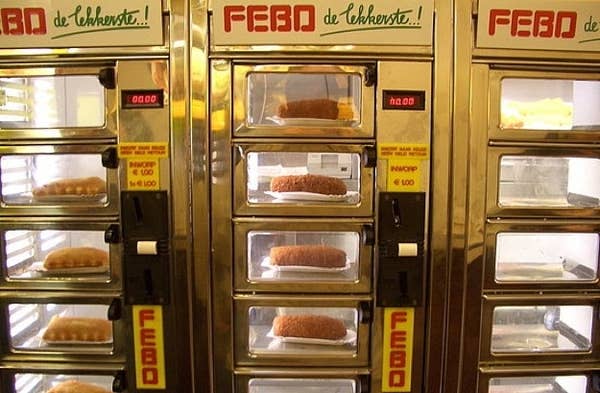 This German vending machine heats up partially baked bread in seconds.
36. Baguette Vending Machine In Paris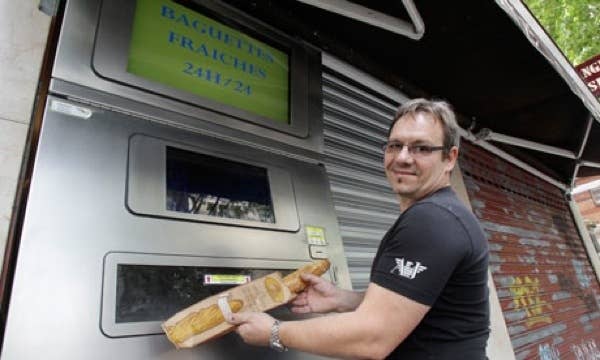 Bread in Paris is no joke, and now you can get it at any time of day with this baguette vending machine. The bread is partially cooked before being put in the vending machine, and then it finishes baking per order and costs approximately £1.30.
37. Burger Vending Machine In Moscow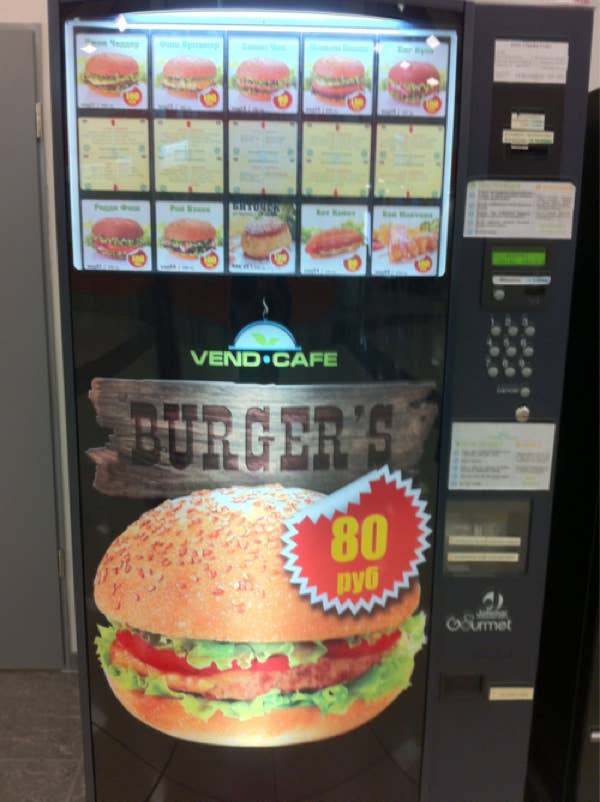 Spotted: burger vending machine in Moscow's sheremetyevo international airport. Never miss your plane again!
38. Rice Vending Machine In Japan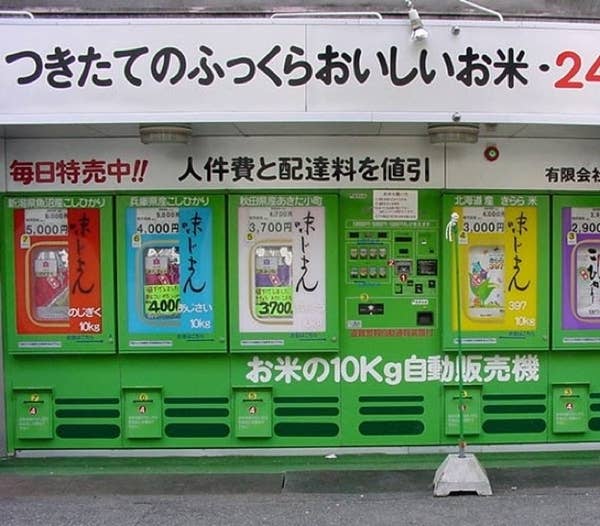 From this rice vending machine in Himeji, Japan, you can get a 22-pound bag of rice for between £30-£40 depending on the variety (there are eight different kinds).
39. Hot Dog Vending Machine In The United States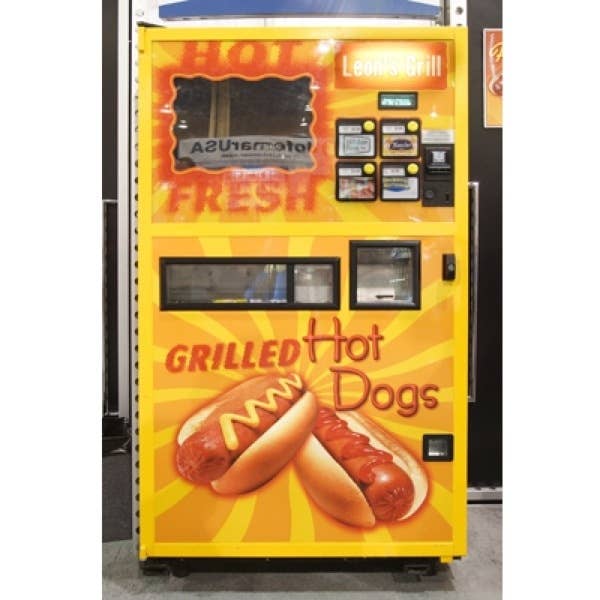 For £2, Leon's Grill vending machine will warm a hot dog and bun then give it to you.
40. The "Hot Menu" Vending Machine In Japan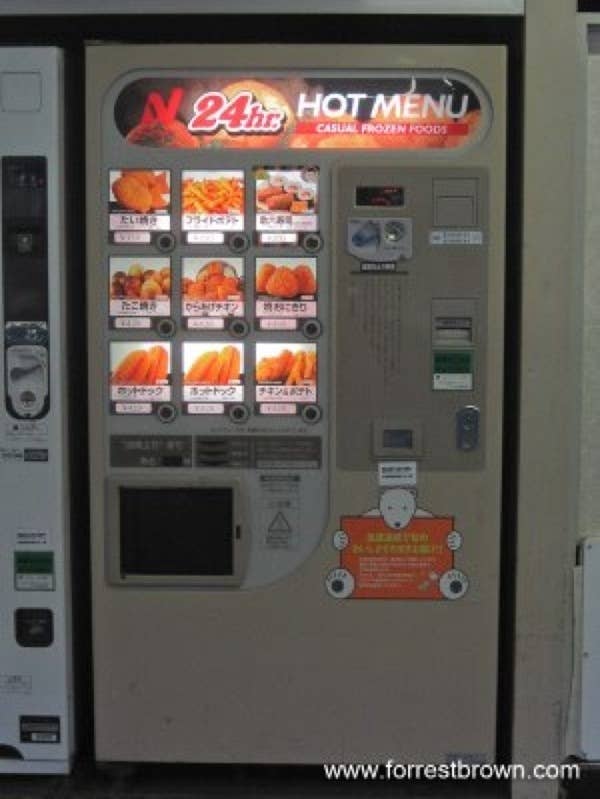 There is one vending machine for every 23 people in Japan according to the country's Vending Machine Manufacturers Association. This one in Osaka dispenses hot food like fried chicken, squid balls, and fish fillet.
41. Canned Bread Vending Machine In Japan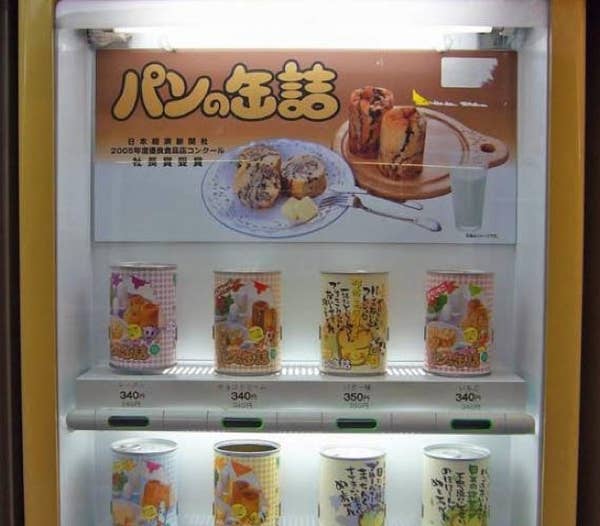 For £4 you can get a cute little can of bread from this vending machine in Japan. Flavors include chocolate chip, coffee, and fruit.
Some of these Unique Vending Machines do not Longer Exist, but they are well worth mentioning.
42. Ice Cream Vending Machine In The United States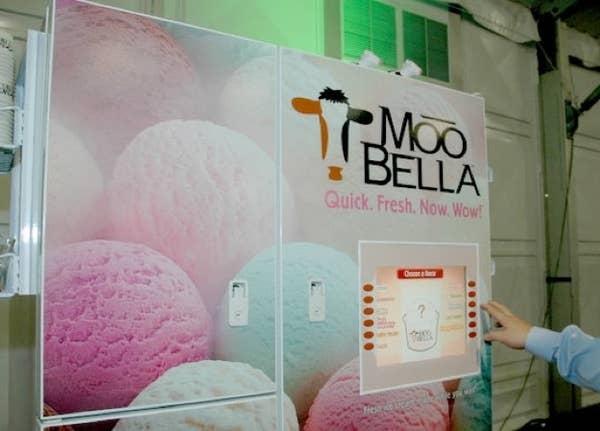 Moo Bella was a touch screen vending machine that provided freshly scooped ice cream and mix-ins producing 96 different combinations to choose from.
43. Lobster Vending Machine In Las Vegas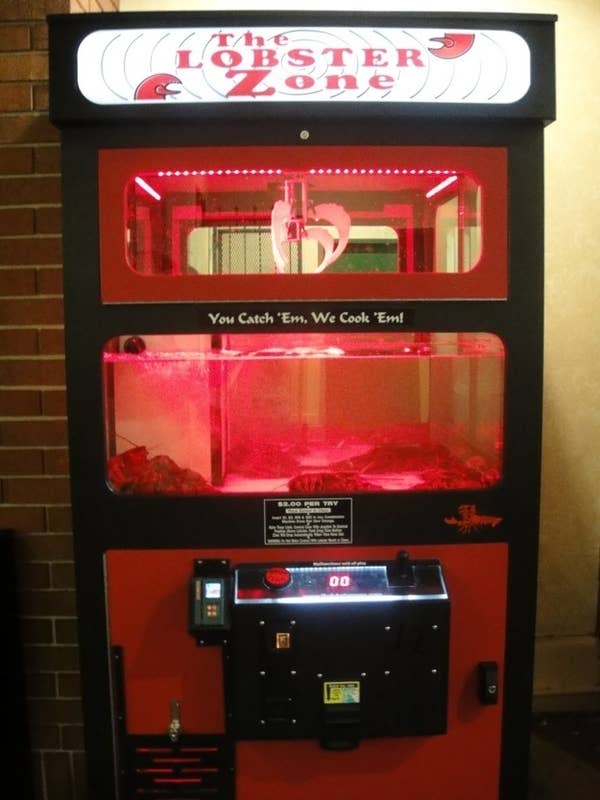 Tinoco's Bistro in Las Vegas (now closed) had a live lobster claw outside the restaurant where you could put £2 in and try your luck for dinner. If you actually got a lobster, the restaurant would cook it for you free of charge.
44. Refillable Detergent In Prague, Czech
45. My College Has A Vending Machine For Violin Strings And Woodwind Reeds
46. A Sock Vending Machine
47.An Umbrella Vending Machine In Japan
48. Orlando International Airport Has LEGO Set Vending Machines
49. Plant Vending Machine, Seen At Clampham Station In London
And last But Not Least Vending Machine that still operates and only gains popularity day by day.
Something you would never expect to be possible to vend out of the smart vending machine.
50. Used Underwear Vending Machine
Where to find it: Japan
Finally, what we've all been waiting for! For many years now it's been something of an urban legend, but it does exist. That's right, a panty vending machine. And not just any panties…used panties.
Source list:
buzzfeed.com
healthyvending.com
boredpanda.com
Buy Vending Machine | Rent vending machine | Lease Vending Machine | Stand alone Vending Machine | Multiple location Vending Machines | Your Trusted Vending Supplier
Refreshment Systems Ltd is one of the most trusted vending machine suppliers in the UK. Whichever option you require either Buy Vending Machine | Rent vending machine | Lease Vending Machine | Stand alone Vending Machine | or Multiple location Machines. RSL is always by your side providing the best vending service nationwide.
If you want to hear more about our product and services, get in touch with Refreshment Systems on 0800 169 3686.
Or via our contact form.
Check out our social pages for more news and offers that the vending world and RSL are offering.
Our Facebook Page: @refreshmentsystemsltd
Our LinkedIn Page: Refreshment Systems Ltd
Our Twitter: @RefreshmentSys