Join Us at the IDDSI Festival: Celebrating a World of Dysphagia Innovation
We are thrilled to invite you to the IDDSI Festival, a global event dedicated to celebrating innovations in dysphagia management. As pioneers in the field, we are excited to unveil our latest breakthrough: the world's first Dysphagia Drink Machine. Join us at this prestigious festival as we revolutionize the way dysphagia patients experience beverages, making a positive impact on their quality of life.
Understanding Dysphagia
The Challenges of Dysphagia
Dysphagia is a medical condition that affects the ability to swallow safely and efficiently. It can arise from various causes, such as neurological disorders, stroke, head and neck injuries, or aging-related factors. Dysphagia poses significant challenges, often leading to malnutrition, dehydration, and the risk of aspiration pneumonia.
The Importance of Innovation
Innovative solutions in dysphagia management are crucial for enhancing the lives of those living with this condition. Addressing the challenges of dysphagia requires a holistic approach that focuses on improving the dining experience, ensuring nutritional intake, and reducing the risk of complications.
A Groundbreaking Invention
We are proud to introduce the world's first Dysphagia Drink Machine, a game-changing invention designed specifically for individuals with swallowing difficulties. This cutting-edge machine opens up a new world of possibilities for dysphagia patients, allowing them to enjoy a variety of beverages without compromising safety or taste.
Customizable Consistency
The Dysphagia Drink Machine boasts a unique feature that enables users to customize the consistency of their beverages. From nectar-thick to honey-thick, the machine can modify the drink's texture to match the individual's specific swallowing needs, promoting safer and more enjoyable consumption.
Enhanced Nutritional Options
Our Dysphagia Drink Machine is not limited to water and simple fluids. It accommodates a wide range of beverages, including nutritional shakes, juices, and even coffee and tea, ensuring that dysphagia patients have access to a diverse selection of drinks.
Benefits and Impact
Restoring Independence
The Dysphagia Drink Machine empowers dysphagia patients by restoring nurses ability to quickly prepare a wide variety of beverages. It eliminates the need for manual thickening, making the process seamless and effortless.
Enhanced Quality of Life
By providing dysphagia patients with enjoyable and nutritious beverage options, our machine contributes to an enhanced quality of life. Patients can partake in social gatherings and savor their favorite drinks without feeling limited by their condition.
Supporting Caregivers and Healthcare Providers
The Dysphagia Drink Machine also alleviates the burden on caregivers and healthcare providers, streamlining the process of preparing beverages for patients with dysphagia. It allows caregivers to focus on other aspects of care, knowing that the patient's hydration and nutrition needs are met.
Interactive Demonstrations
Join us at the IDDSI Festival for live demonstrations of the Dysphagia Drink Machine in action. Witness first-hand how it transforms various beverages into safe and palatable options for individuals with dysphagia.
Expert Insights
Our team of experts will be available to provide in-depth information about the Dysphagia Drink Machine, its features, and its potential impact on dysphagia management. Engage in insightful discussions and gain valuable insights from industry leaders.
Embrace the Future of Dysphagia Care
Be a part of this transformative moment in dysphagia management. Experience the future of dysphagia care and witness the positive impact of the world's first Dysphagia Drink Machine.
Conclusion
The IDDSI Festival is a unique occasion to celebrate innovation and advancements in dysphagia management. We cordially invite you to join us at this momentous event as we proudly present the world's first Dysphagia Drink Machine, dedicated to enhancing the lives of dysphagia patients and revolutionizing dysphagia care worldwide.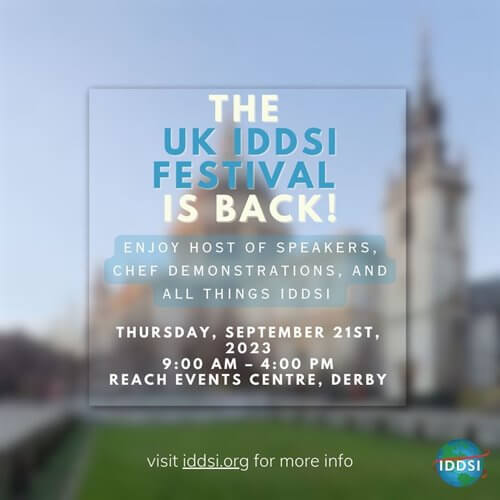 UK IDDSI Festival 2023
Thursday, September 21st, 2023
10:00 am – 4:00 pm
Reach Events Centre, Derby, DE24 8HY (map)
FAQs
Q: What makes the Dysphagia Drink Machine unique?

A: The Dysphagia Drink Machine is the world's first invention designed specifically for dysphagia patients, allowing them to enjoy a variety of customized beverages safely.

Q: Can the machine accommodate hot beverages as well?

A: Yes, the Dysphagia Drink Machine is designed to handle both cold and hot beverages, including coffee and tea.

Q: Does the machine require specialized training to operate?

A: The Dysphagia Drink Machine is user-friendly and straightforward to operate. Users will receive clear instructions for seamless usage.

Q: Will the machine inventor be available at the festival?

A: Yes, the Dysphagia Drink Machine inventor will be available at the festival.