VendSmart: The revolutionary new Vending Machines
Are you a snacker, cold drinks kind of person, or both? Does your business already have vending solutions? Are you tired of having unreliable vending machines? The need for vending is in a cycle of constant demand by businesses. However, if they're only working 20%, 30% of the time, companies should be looking elsewhere.
This is where VendSmart comes in
These revolutionary vending machines will change your opinion on untrustworthy machines. RSL's new machines are at the forefront of being unmissable. The world is always moving forward, but where not in the years of flying cars yet. So, a vending machine that is packed with the latest technology will have to do, for now. 
When it comes to receiving your items, you don't have to worry about products falling from the top and breaking. The new machines have lift capabilities that will safely bring your chosen products to the bottom.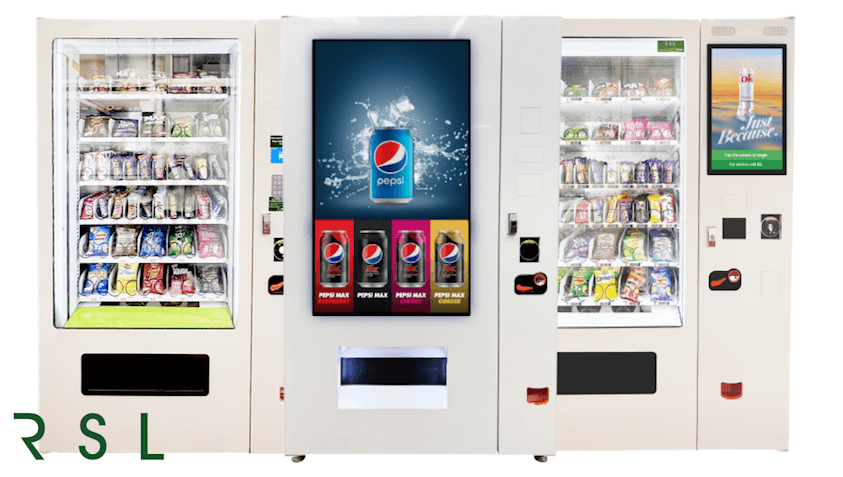 Not only that, but the benefits are also endless. Gone are the days of vending machines only capable of dispensing chocolate, crisps, and cold drinks. Now, you can vend anything you want through VendSmart.
Anything that you desire, sandwiches, salads, ready meals, soup, fruit etc.
Our range includes:
The VendSmart Optic Media is the one with it all. Offering industry-leading technology to help drive sales and consumer satisfaction. It is an intuitive vending machine offering a range of products, media features, payment types and sustainability features including a 49" Full HD display.
The future is now, RSL can work with you to find a vending or coffee machine that is suitable for your business.
These new machines will fit perfectly into healthcare, B&I, manufacturing sites and more.
If you want to hear more about our product and services, contact Refreshment Systems on 0800 169 3686.