How Vending Machines Help Companies Like Coca-Cola and Pepsi
As we are more than halfway through 2021, where else can coffee machines go? Over the past two months, we have discussed the history of vending machines, how telemetry plays a part and how machines are taking a step into luxury through our blogs. It's no wonder that many businesses find that vending machines are a great benefactor for workplace satisfaction.
We now find vending suppliers taking another step, helping companies like Coca-Cola, Pepsi, Cadbury and Yorkshire Tea advertise their products via media screens.
Reach the right people
Companies can gain brand exposure through advertising via vending media screens. They can be used to showcase images and videos of your products or services through an HD screen.
Our machines are placed in high footfall areas including workplaces, universities, colleges and in hospitals where we have machines in over ten trusts. A typical media screen campaign across our entire machine locations gives you a reach of over 6 million views over six months. With these touch screen capabilities, the entire experience becomes immersive and fun for the user.
Also, it may be worth taking into account that more people will see the advert on a vending machine compared to a billboard. You're not going to stop driving to look at a billboard.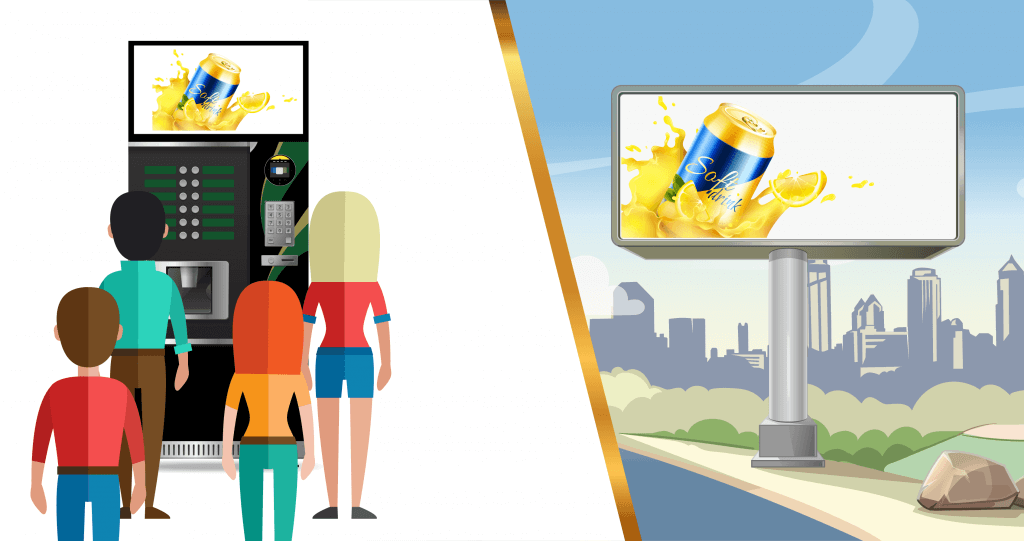 Personalise your screens
Media screens don't have to be used for just advertising external companies products. Personalise your screens with your branding, like you would do if you have a vending surround. Instead of sending emails to your employees with information regarding health and safety, you can create a loop of information and upload them to the media screen. This way the information is going to reach more people whilst they wait for their coffee or snacks to be dispensed.
In conclusion
This technology gives the vending industry many possibilities of creating a network of advertising, company information and other means of presenting information to consumers.
Buy Vending Machine | Rent vending machine | Lease Vending Machine | Stand alone Vending Machine | Multiple location Vending Machines | Your Trusted Vending Supplier
Refreshment Systems Ltd is one of the most trusted vending machine suppliers in the UK. Whichever option you require either Buy Vending Machine | Rent vending machine | Lease Vending Machine | Stand alone Vending Machine | or Multiple location Machines. RSL is always by your side providing the best vending service nationwide.
Benefits of Getting a Coffee, Snack or Drink Vending Machines from Refreshment Systems
There are many advantages of vending . It is a way to keep your colleagues, clients and visitors refreshed throughout the day. It comes with a reduced cost compared to a fully manned refreshment station at work. With RSL, all our machines are fitted with telemetry units to make coffee machine management more efficient, reducing downtime and ensuring your machines are always stocked.
Take workplace refreshments to the next level with buy new vending machines from Refreshment Systems. RSL is a leading National vending supplier. Our unbeatable range of machines can be purchased outright or leased.
Get in touch with our team now to get started.
You will always have an option to lease vending machine, Buy vending machine or rent vending machine from RSL. Complete freedom of choice and various service packages available up to completely managed vending solution tailored just per you and your customers needs.
If you want to hear more about our product and services, get in touch with Refreshment Systems on 0800 169 3686.
Or via our contact form.
Check out our social pages for more news and offers that the vending world and RSL are offering.
Our Facebook Page: @refreshmentsystemsltd
Our LinkedIn Page: Refreshment Systems Ltd
Our Twitter: @RefreshmentSys