How vending machines help companies like Coca-Cola and Pepsi
As we are more than halfway through 2021, where else can vending machines go? Over the past two months, we have discussed the history of vending machines, how telemetry plays a part and how vending machines are taking a step into luxury through our blogs. It's no wonder that many businesses find that vending machines are a great benefactor for workplace satisfaction.
We now find vending machines taking another step, helping companies like Coca-Cola, Pepsi, Cadbury and Yorkshire Tea advertise their products via media screens.
Reach the right people
Companies can gain brand exposure through advertising via vending media screens. They can be used to showcase images and videos of your products or services through an HD screen.
Our machines are placed in high footfall areas including workplaces, universities, colleges and in hospitals where we have machines in over ten trusts. A typical media screen campaign across our entire machine locations gives you a reach of over 6 million views over six months. With these touch screen capabilities, the entire experience becomes immersive and fun for the user.
Also, it may be worth taking into account that more people will see the advert on a vending machine compared to a billboard. You're not going to stop driving to look at a billboard.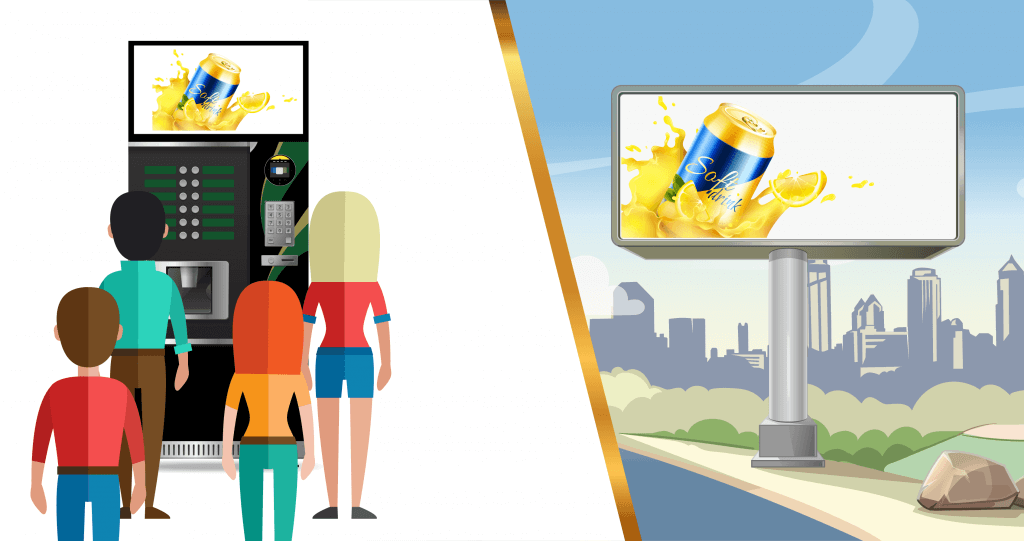 Personalise your screens
Media screens don't have to be used for just advertising external companies products. Personalise your screens with your branding, like you would do if you have a vending surround. Instead of sending emails to your employees with information regarding health and safety, you can create a loop of information and upload them to the media screen. This way the information is going to reach more people whilst they wait for their coffee or snacks to be dispensed.
In conclusion
This technology gives the vending industry many possibilities of creating a network of advertising, company information and other means of presenting information to consumers.
If you want to hear more about our product and services, contact Refreshment Systems on 0800 169 3686.