Which machine is for you? – Personality match!
Coffee and Vending machines.
Choosing the right machine for you and your business can be a bit of a minefield. They all look pretty different, but how do you know which will suit you? I am going to break it down for you by attributing a personality to the machines to try and help you out.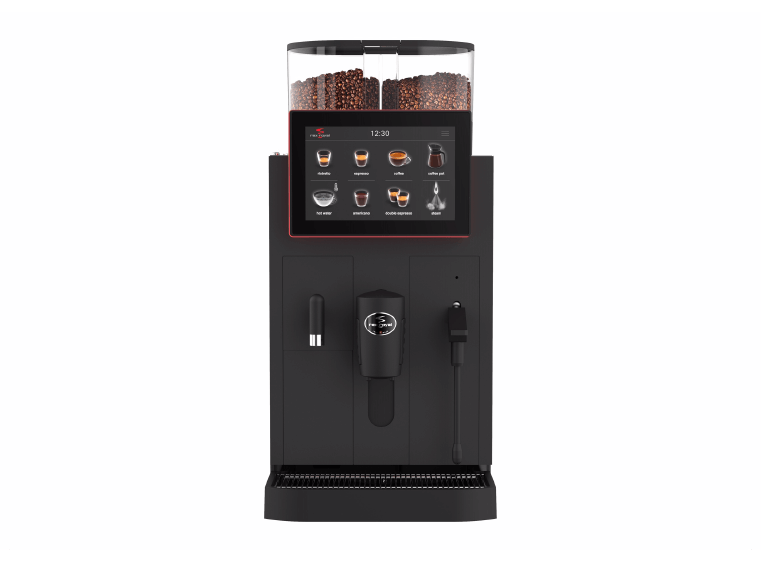 This flashy piece of kit will give you the professional, high-end look that you are aiming for, with a high-resolution 10" touchscreen, perfect for adding your internal messages or external promotions.
Don't be fooled though, this coffee machine can back up its good looks with an impressive work ethic. The ability to serve two drinks at once from a menu of up to 24 programmable drinks is a valuable addition in a busy setting.
Not only that, this coffee machine can serve up to 250 cups of coffee per hour, is extremely easy to clean and uses a metal brewing unit, for authentic espresso extraction, rather than the plastic version that some of the competing machines in the same segment have opted for.
The RSL Rex Royal 300 could be argued as one of the more superior machines in its field, while being slightly more financially economical than the competing models.
Optional milk fridge and crockery warmer, also available in a compact version.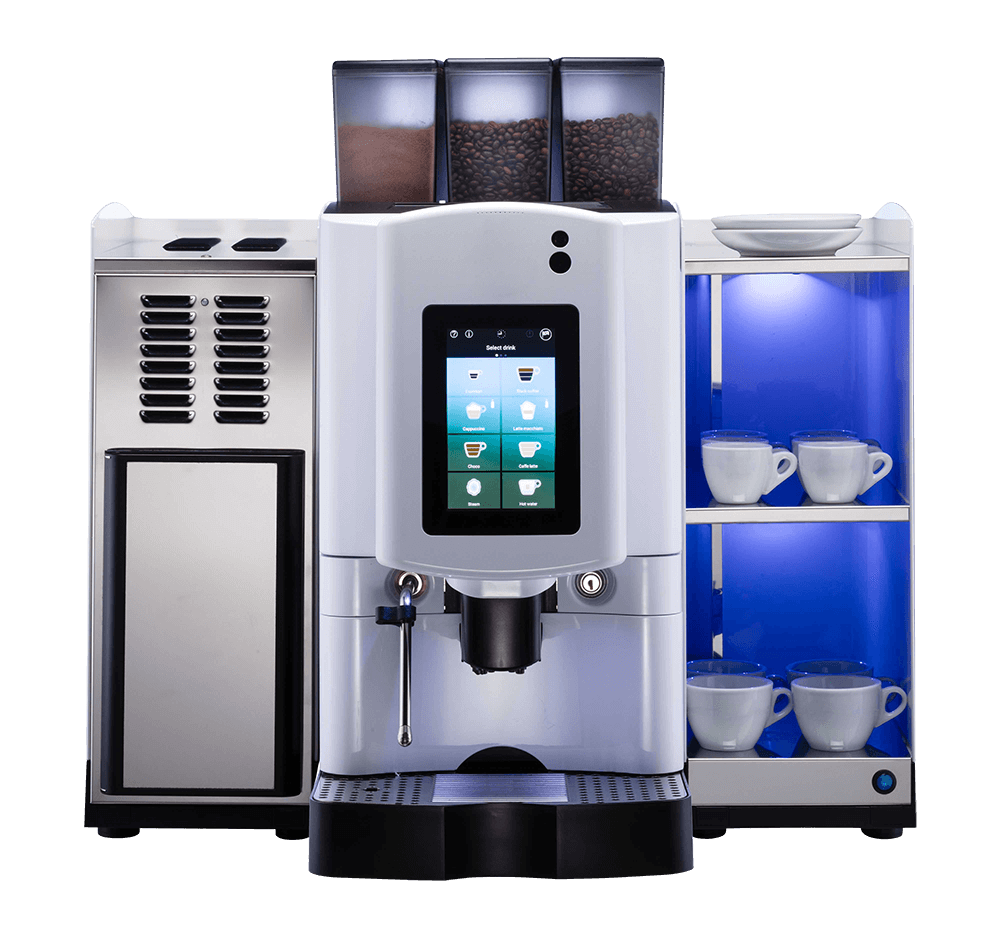 The Touch is a great addition for any organisation that requires an approachable machine that can keep up with fairly high demand. Able to deliver up to 150 drinks per hour, this bean-to-cup coffee machine packs a punch while enjoying a relatively small footprint.
Featuring an integrated 7" touchscreen for drink selection and displaying a screensaver of your choice, along with the option of black or white, The Touch really does look the part in any setting.
Easy-to-use with on screen cleaning instructions and a metal brewing unit for clean, authentic coffee, along with the all-important eco-mode for keeping energy costs to a minimum, while improving your green credentials.
You can opt for powdered or fresh milk and a cup warmer to display your crockery.
While I have described the traditional espresso coffee machine as highly strung, this is where the true, authentic espresso is created, and with this comes the requirement of knowledge and training. This machine needs treating right in order to get what you want.
Its partner in crime, the coffee grinder, arguably more important than the coffee machine itself as this is where the magic happens, creating the correct grind consistency ready for the coffee machine to push hot water through, extracting the coffee to the right degree.
Add a trained barista to pull all of the elements together, steam the milk to frothy, sweetened perfection and what you get is consistently delicious espresso-based drinks, showcasing the best of the beans used, enhancing the flavour profile and delivering a perfect kick of caffeine (unless decaf is used of course!).
Available in various models, sizes and colours.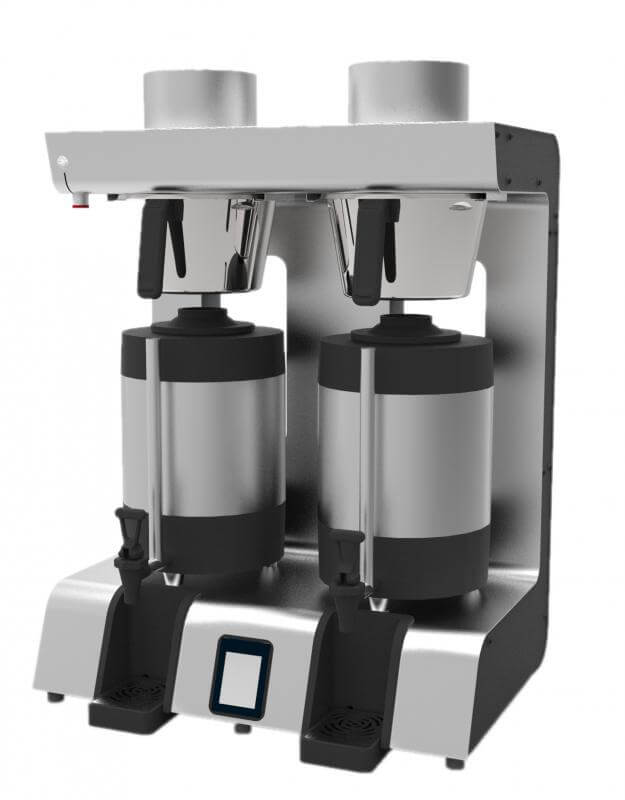 Now, if you have a big function to deliver coffee for quickly, this is the one. Able to use either beans or pre-ground coffee, each urn can brew between 2 and 6 litres in up to 10 minutes. Need more coffee? You can purchase the Jet Twin machine (double the capacity) to deliver the volume you require!
With a digital screen for easy brewing instructions and tracking system so you know exactly how long until your batch is brewed and how long it has been since you last brewed your coffee. On top of quantity and speed, this bulk brew coffee machine also delivers on quality, serving up SCAE Gold Cup quality filter coffee, giving you the confidence that your guests will be delighted.
The Marco Jet Bulk Brew is the gift that keeps on giving, it is 95% recyclable and low on energy consumption, giving you piece of mind it will fit perfectly into any sustainability plan you may have.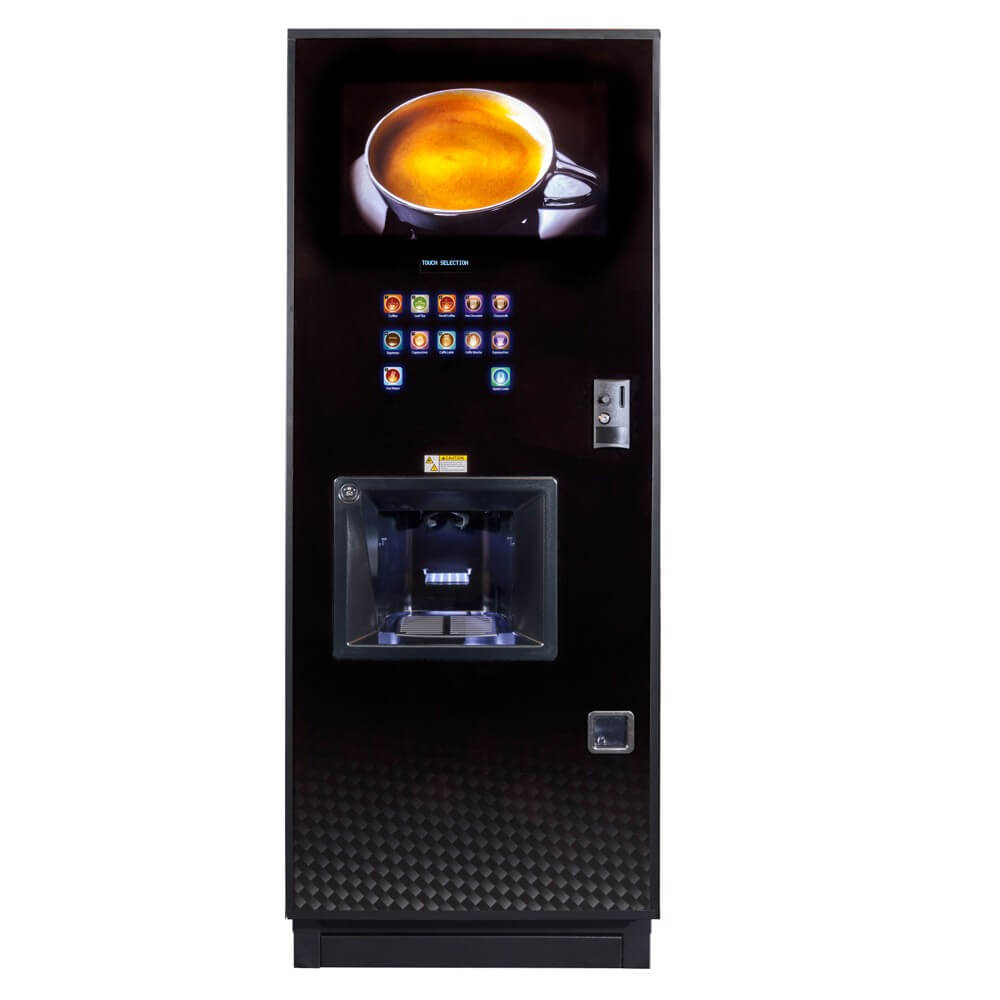 Big and bold. Great for high volume sites that still want a great quality coffee drink, this freestanding coffee vending machine gives no hassle as it drops a cup and serves up a delicious drink from a menu of up to 10 programmable drinks.
Looking to reduce waste? The helpful Neo features a cup sensor to enable use of your own cup, with the addition of an eco-mode, to take care of energy wastage too.
Available in several different specifications including bean-to-cup, the quality really is impressive while variety is of no issue, able to deliver soups, hot chocolate and more.
This coffee machine can include a variety of payment systems, whether that be coins, cashless payments or a code for a free-vend or jug-fill function. So, as you can see, this coffee machine delivers a great, zero-hassle service for either a coffee-to-go function or workplace environment.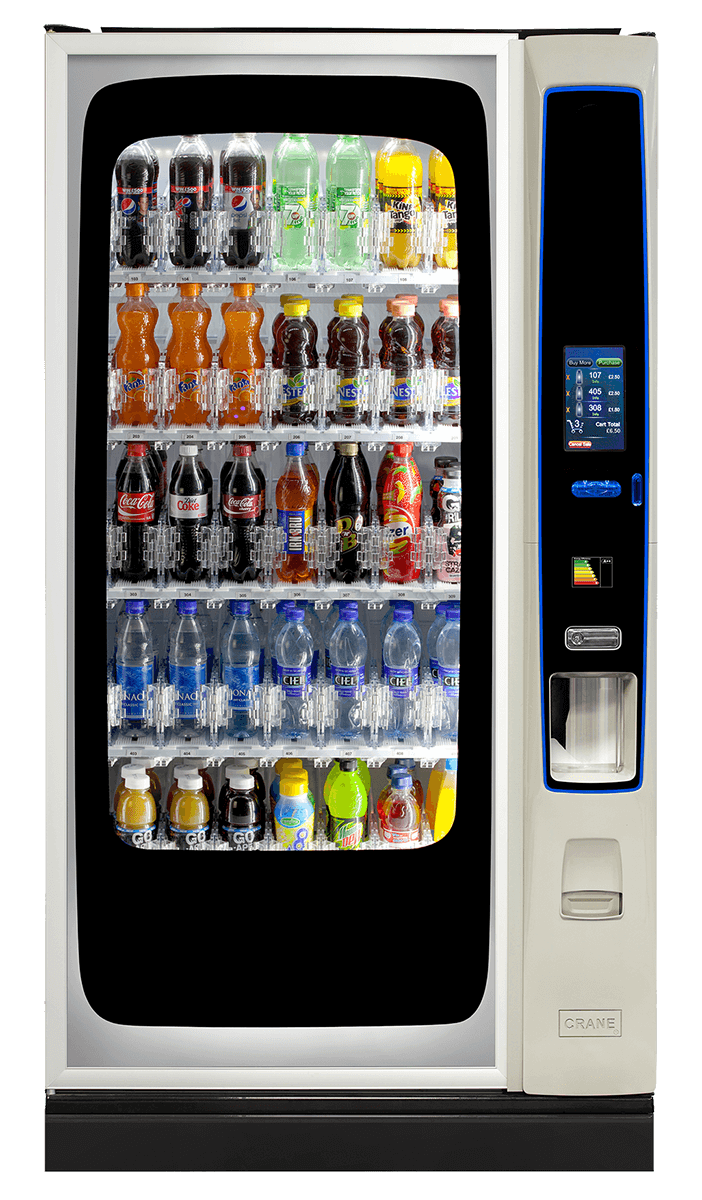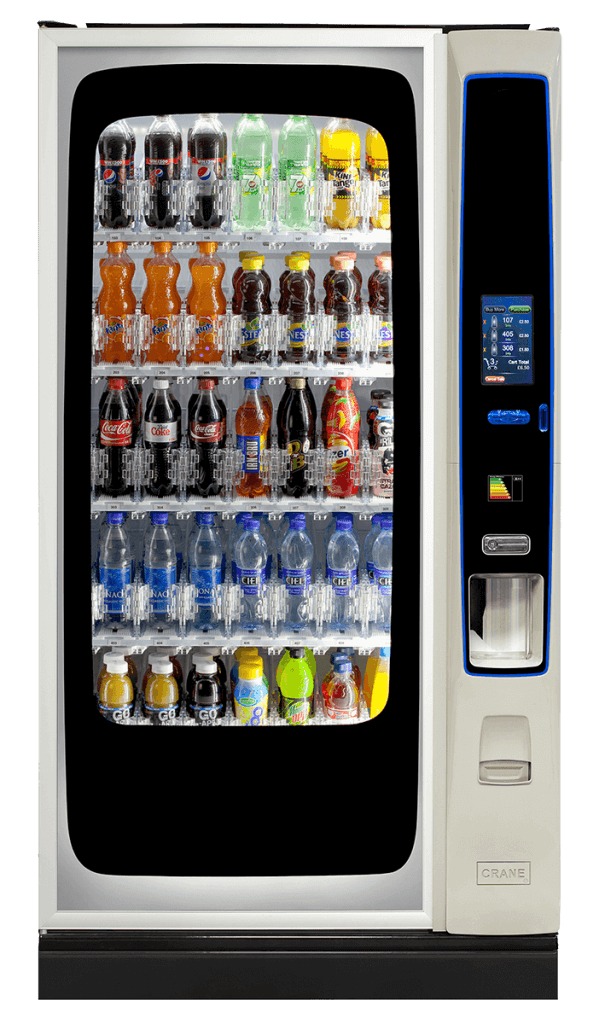 Everyone loves a cold, refreshing drink when the time calls for it. The BevMax 4 vending machine makes this experience even more enjoyable by extending its robotic arm to grab the chosen drink, swiftly moving it over to the dispensing tube and gently placing it ready for collection. No more fizzed up drinks or dented cans. Thanks to this great step in technology.
In addition to this, every BevMax 4 features 'SureVend'. This ensures that if a delivery fails, the customer will receive their money back. Great customer satisfaction. All thanks to a laser beam placed at the foot of the products!
With LED lighting and a Carbon Neutral option for energy efficiency this machine is packed with technology, not forgetting the shopping cart feature, enabling the customer to choose multiple products before payment. This vending machine really does show the great advances in technology throughout the industry.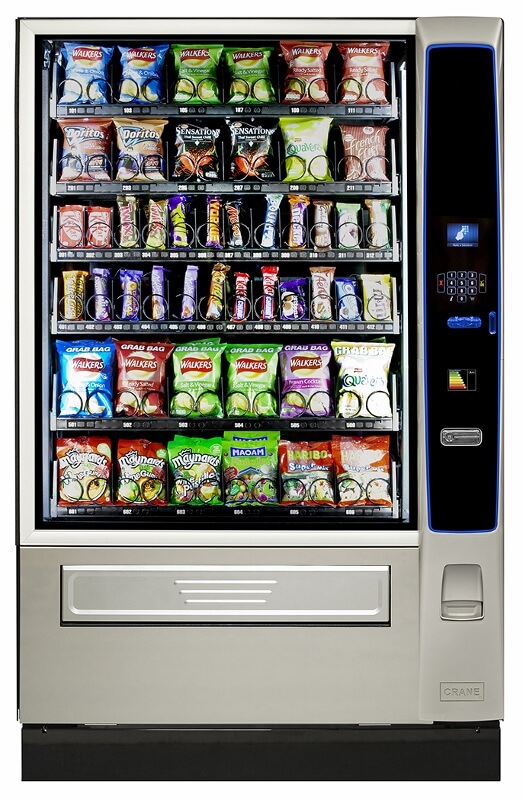 Perfect all-rounder, providing snacks and drinks any time of the day to avoid hunger pangs, keep productivity high and customers happy. With the all-important shopping cart to collect multiple items before payment, making the process seamless and enjoyable.
With a wide range of payment systems available including coins, cashless, Android and Apple Pay, you can choose the option that suits you and your organisation most. With an in-built eco-mode and optional carbon neutral mode to keep costs low and support your green credentials.
Featuring the all-important 'SureVend' to keep user satisfaction high this machine really is a people pleaser.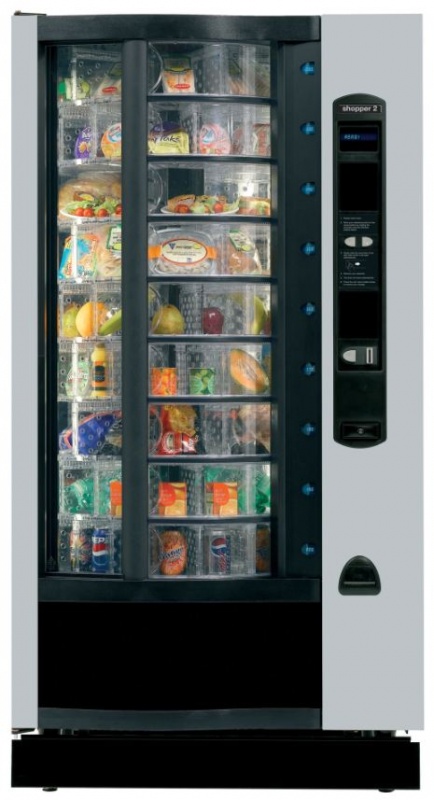 A lesser known machine, but not one to be overlooked. The nature of The Shopper means it can dispense the widest range of products, whether this be home-cooked food, healthy meals or snack packs. Thinking even further outside the box, the machine could be used for dispensing non-edible items
Take out the need for an on-site caterer by purchasing The Shopper and filling with sandwiches, meal deals and fruit! A much more financially economical option and much lower energy than opting for a caterer.
The flexibility of this vending machine makes it a great addition to a huge range of organisations and definitely worth considering.
Coffee machines and vending machines are a great addition for so many reasons, the question is 'Which one?'.
If you would like to find out more or speak to a member of the team, contact us on 0800 169 3686 or click here to make an online enquiry.