Traditional Vending Machines vs VendSmart 
No more commuting to your local shop or rooting through your pocket for spare change to buy a chocolate bar or packet of crips. The world as we know it is constantly changing and we are on the journey of one day becoming a completely cashless society the world of vending is opening a new door of possibilities to stay on this footpath.
Where can traditional vending machines go next?
What is traditional vending? This way of vending is the ability to purchase a product from a vending machine via physical cash and using a keypad to enter the product selection number. Once completed, you would wait for your product to drop. You would be lucky if the item did not break into a thousand pieces, but that is the chance you would have to take.
This type of machine can still be used but upgraded. For example, our new VendSmart Classic brings that traditional feel of using a touchpad. However, you can pay with contactless payment and watch as the lift goes up to your product and safely brings it to the bottom (not in a thousand pieces)
The traditional machines will not be pushed aside, they will be reinvented just like the VendSmart Classic.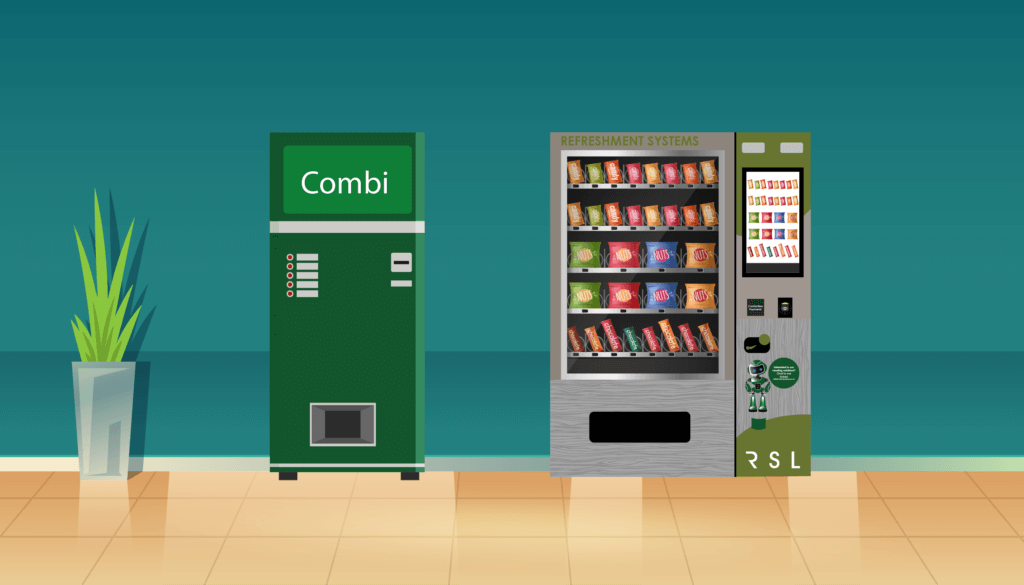 Never doubt the modern vending machine
Vending machines are more than just a "big box," they are machines that are packed full of useful technology that can positively increase the user experience. For example, the customer can pay via Facial ID, through the Monyx app, Smart Watch, Smart Phone, or Credit/Debit Card.
Not just that, new vending machines like the VendSmart range come with media screens, so you can watch the latest advertisements from businesses, latest promotions, Allergy/Nutritional information etc.
These new machines are an elegant collection that will fit perfectly into your vending estate. It is time to move forward, this is where vending was heading and now that we are here, the results are endless.
VendSmart Optic Media vs VendSmart Media vs VendSmart Classic
RSL's new range consists of three machines, Optic, Media and Classic. Vastly different machines but only one goal. Making people's lives easier when it comes to vending.
VendSmart Optic Media: The VendSmart Optic Media hits hard. With a 49″ full HD display, this machine is ideal for any industry wanting to enter the future. The Optic Media is perfect for advertisements, instruction guides, allergy information and more. Product selection has been made easy with the 3-step tap.
VendSmart Media: The user-friendly interface is quick and easy to operate, using product images to simplify selections. With a 21.5″ screen size, the VendSmart Media is ideal for advertisements, instruction guides, allergy information and more.
VendSmart Classic: It is an intuitive vending machine offering a range of products, payment types and sustainability features while feeling traditional.
These are not just any ordinary machines, the VendSmart collection adds the ability to have multiple belts working together to deliver sandwiches, salad pots, soup, fruit, noodles, ready meals and much more.
Why choose VendSmart?
Ideal vending machine for high footfall areas. The shopping cart facility, media screen and 3-step tap make it super easy to use and intuitive for end-users.
Adjustable tray height
Telemetry enabled
Trays can be changed to spirals, double spirals, and belts
Belts can be coupled together to deliver different products
Universal slots, compatible with a wide range of cold drink products
LSR technology enabled
Virtual shopping cart
LED lighting and power-saving mode
Strong metal plate & support bar to help jams
A remote control management system that can be accessed using a PC or phone. Making it easy and quick to change products, videos, images, and pricing
Energy-saving compressor to keep products cold and fresh
Support 4G, WIFI, LAN.
Why do we need all this technology inside a vending machine?
The latest vending machines aren't just packed full of useless technology that isn't needed, there are validated reasons.
The machines we have all come with telemetry enabled, allowing us to know the status of your machine. If that's low stock, machine errors, certain products not performing well etc. The media screens are there for product selection, the ability to advertise helpful guides (how to use the machines), help other businesses advertise their services, and show information on allergies and nutritional information. The lift was implemented so you get your items in one piece.  
This isn't just unnecessary technology that we thought would look really cool for you all. This is the technology that will keep bringing vending machines into the future and make your time and experience better.
What can the future of vending mean for you?
A whole new world of vending is already among us. We can tailor a complete technology-driven vending estate for your business. We take all the stress away from you. We worry about the details; you worry about which product you want to select.
In conclusion
Vending is past, present, and future and we are here for that…