Vending Machines And Beyond, Best Of The Best
Where will vending take us in the future? Vending machines have been front and centre ever since their inception back in the 1st century. Since technology took hold and changed the user experience, what's next?
Quick Timeline of RSL and Vending Machines
Back in 1967, Refreshment Systems was founded. Since then, we have been on a mission to provide a variety of solutions to companies.
Today, we have equipped our vending machines with telemetry which has provided many benefits to industries such as, healthcare, hospitality, catering, offices and more. There is always more we can do to help people. So, what will happen in the future?
Does technology really have the leading role?
If it wasn't for the advancements in technology, we would have almost nothing to suit the requirements of "modern" life. So, in terms of answering the subheadings question, yes, technology does have a leading role. Not just in vending machines, but everything from cars, TV's, homes and so much more. 
Will robots take over?
When you think of robots, do you think of a humanoid robot that pop culture has been obsessed with forever? Can you even count all the instances of humanoid-shaped robots in movies and TV shows over the years? It's something we've been fascinated with since the beginning of time. There are endless versions of it.
It turns out the ideal way to make a robot, for example, to hoover your floor, is not to build a human-sized shaped robot that pushes around a vacuum. It's to make the robot the vacuum. The vacuum is the robot.
You don't want a humanoid robot standing at the sink washing dishes for you.
The dishwasher is the robot. Another example would be, you don't have a humanoid-shaped robot sitting in your car, driving you around. The car is a robot. The self-driving car that drives itself.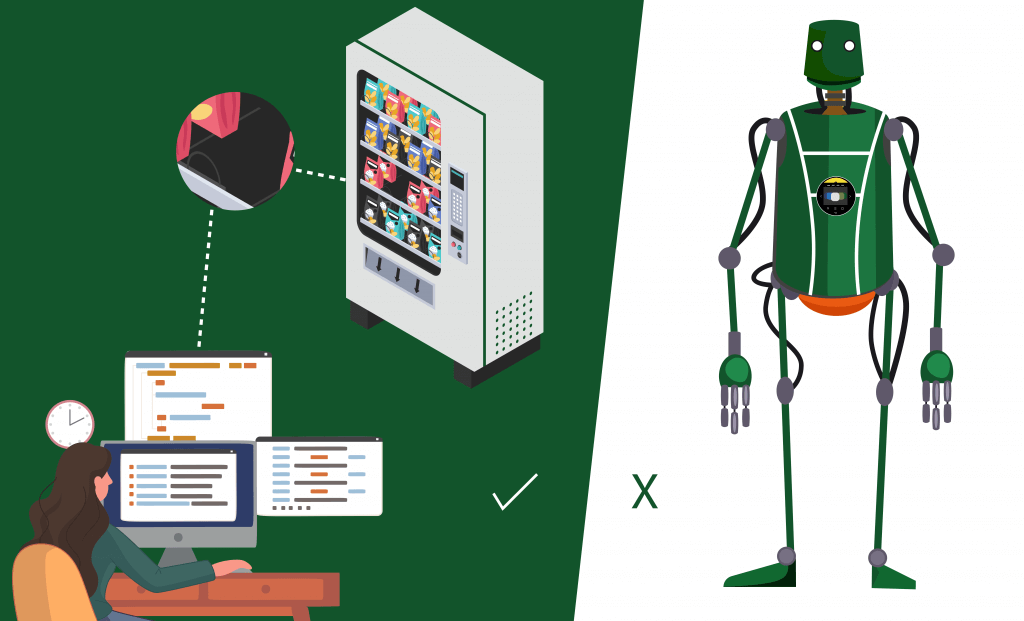 Smart Commercial Vending Machines
When it comes to a smart vending machine and telemetry, you wouldn't have a humanoid robot dispensing snacks for you. If there is a problem with the machine, the information isn't going to be passed from the humanoid robot to the actual human. Vending machines and telemetry are the robots. Telemetry will alert the engineer when there is a problem. 
The answer would be yes, robots are taking over, but not in the way we think may or may not happen. Why would you want a human-shaped robot to try and do these things that humans are already good at? How long would it take for that robot to actually get good at things that humans are good at? The best way to answer that would probably be to look at the most advanced robotics company, Boston Dynamics.
Where will coffee vending machines go?
Now that telemetry has been implemented into our commercial coffee vending machines, the next steps would be advancements in telemetry. It can help RSL deliver a more unique customer experience. Finding new ways to become more efficient, looking into different technologies that can make vending machines more advanced. This could be facial recognition, improving the way customers can preorder snacks through the Monyx app.
For people like catering and facilities managers, how can we help them in the future? That's a question that we could answer by saying we will improve how our unique telemetry system allows for real-time access to their sales, stock and performance. Not only does it take the guesswork out of refilling your machines and highlights top-performing products, but it also allows for efficient replenishment, reducing unnecessary fuel consumption and contributing to a reduction in your carbon footprint.
Everything can be improved and vending machines will continue to evolve. It's just a matter of searching and working hard to make these machines fit in with the requirements of modern life.  
Buy Vending Machine | Rent vending machine | Lease Vending Machine | Stand alone Vending Machine | Multiple location Vending Machines | Your Trusted Vending Supplier
Refreshment Systems Ltd is one of the most trusted vending machine suppliers in the UK. Whichever option you require either Buy Vending Machine | Rent vending machine | Lease Vending Machine | Stand alone Vending Machine | or Multiple location Machines. RSL is always by your side providing the best vending service nationwide.
Benefits of Getting a Coffee, Snack or Drink Vending Machines from Refreshment Systems
There are many advantages of vending . It is a way to keep your colleagues, clients and visitors refreshed throughout the day. It comes with a reduced cost compared to a fully manned refreshment station at work. With RSL, all our machines are fitted with telemetry units to make coffee machine management more efficient, reducing downtime and ensuring your machines are always stocked.
Take workplace refreshments to the next level with buy new vending machines from Refreshment Systems. RSL is a leading National vending supplier. Our unbeatable range of machines can be purchased outright or leased.
Get in touch with our team now to get started.
You will always have an option to lease vending machine, Buy vending machine or rent vending machine from RSL. Complete freedom of choice and various service packages available up to completely managed vending solution tailored just per you and your customers needs.
If you want to hear more about our product and services, get in touch with Refreshment Systems on 0800 169 3686.
Or via our contact form.
Check out our social pages for more news and offers that the vending world and RSL are offering.
Our Facebook Page: @refreshmentsystemsltd
Our LinkedIn Page: Refreshment Systems Ltd
Our Twitter: @RefreshmentSys